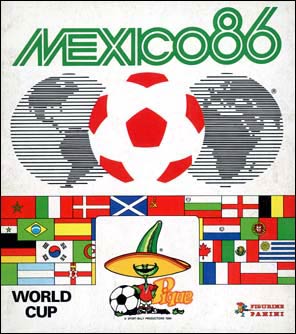 Ah Mexico 1986. For many football fans this was the most memorable World Cup ever, even for me. I was about to turn 10 when the tournament started and didn't watch many live games. However us kids would watch some highlights and results every evening and discuss games and goals in school and later in the day with friends as we gathered in our building. The world went crazy for Argentina and a midfield maestro named Diego Armando Maradona, who was all over the news, newspapers and tv – I remember that Toyota in particular had ads with him as a brand ambassador that was shown so often on Kuwaiti tv.

Ofcourse Maradona went on to win hearts and plaudits for his magical dribbling and his talents but I will always remember him for the cheat of a goal he scored against England. England goalkeeper Peter Shilton came out of his goal to punch the ball clear. However, Maradona, despite being 8 inches (20 cm) shorter than the 6-foot-1 (1.85 m) Shilton, reached it first with his outside left hand. The ball went into the net and stood as a goal as the refree did not see it, much to anger of  the English players & management. Appropriately called the 'Hand of god' goal, for what is god & religion if not man cheating, hoaxing & screwing his fellow man! Ofcourse, Maradona then went on to score "the goal of the century", so called as it claimed to be the best individual goal of all time – and from a neutral point of view, all is forgiven. Argentina won that game and went on to bet West Germany in the finals and lift the trophy for the second time.
Gary Linekar of England would win the Golden Boot as the leading scorer of the World Cup with six goals. A talented Danish side with a young Michael Laudrup won their group, finishing above West Germany, but were thrashed by Spain in the round of 16. A surprise was Morocco who finished above England at the top of their group an made it to the round of 16 and another was Belgium who made it to the semis losing to Argentina. Michel Platini and France finished 3rd beating out Belgium. Documented in a popular film, I and my cousins relived Mexico 86 for a couple of summers afterwards. One last thing, back in Kuwait in 1986 a chewing gum company (can't remember which one) had a project for football fans. You could buy a book from them in which all the competing nations were entered and empty slots kept for each squad member. For each pack of the chewing gum you bought, you would get a small pack of 5 stickers on which you'd have the profile photo of a player in the Wold Cup. So one pack of gum gave you 5 player stickers and you had to fill the entire book with all the players – for which the company would give you a large prize. I managed to finish a little over half by the end of the tournament but still have the book for a long time.
Great memories of a great world cup.