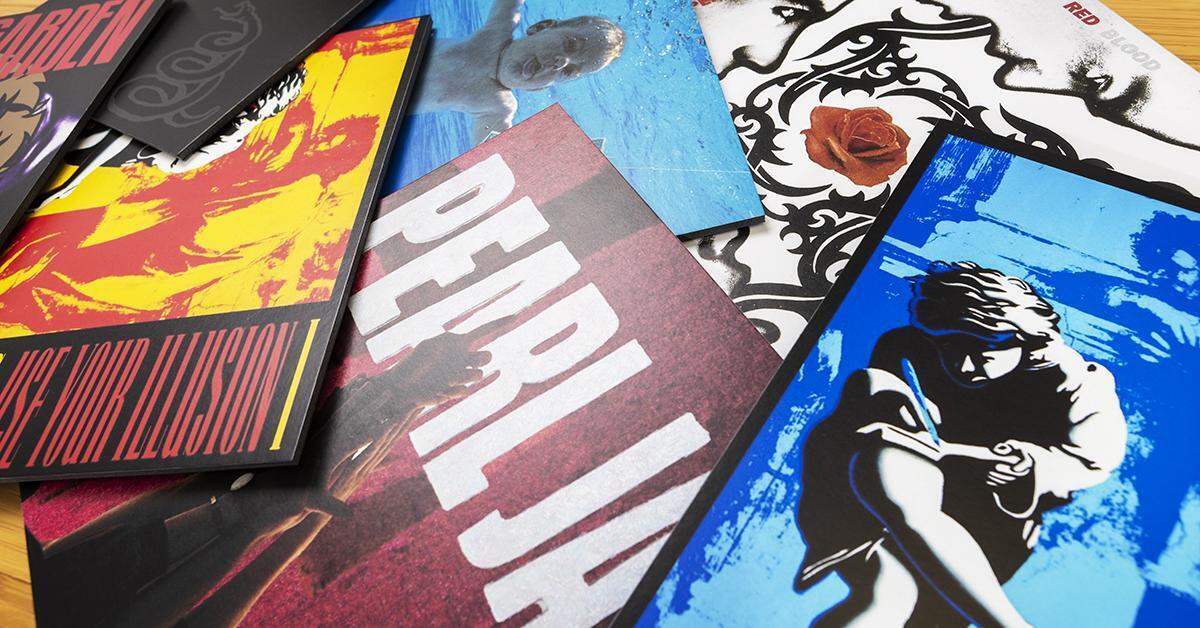 Ah, 1991. Yours truly was still a 14 year old and would only turn 15 in August of that year. I honestly believe that 1991-1993 were the best years for rock music in general, maybe because I got really into a lot of great bands and we got a lot of great music during that time. How much I played the songs in these albums you see above (the exception being Soundgarden) and enjoyed the music videos as well. Although the year 1991 is the year that grunge music made its popular breakthrough, heavy metal was still the dominant form of rock music for the year.
So, Nirvana's Nevermind, led by the surprise hit single "Smells Like Teen Spirit", was not the most popular U.S. album of the year. That award goes to heavy metal band Metallica and their self-titled 'Black' album. Runner up would be Guns N' Roses double album Use Your Illusion I & II. Nirvana's success was eventually followed by other grunge bands like Pearl Jam, Soundgarden and grunge would rule the roost for a few years. Pearl Jam's debut Ten is one of the best albums ever, while Soundgarden's 3rd album Badmotorfinger further established them as a top rock act. Red Hot Chili Peppers's 5th album Bloodsugarsexmagik was their big breakthrough, making them a household name.
Along with these greats you also had a debut from Ugly Kid Joe, Rush Street by Richard Marx, the awesome We Can't Dance by Genesis, Dangerous by Michael Jackson, the breakthrough album for Mr. Big in Lean Into It, Slave To The Grind from Skid Row, my fav Van Halen album in For Unlawful Carnal Knowledge, a return to more guitar driven songs and my introduction to Rush in Roll The Bones, Dire Strait's last album On Every Street, Psychotic Supper by Tesla, No More Tears by Ozzy Osbourne, Hey Stoopid by Alice Cooper, Stars by Simple Red, the massive Waking Up The Neighbours by Bryan Adams, Luck Of The Draw by Bonnie Raitt, Solace by Sarah McLachlan, Pocket Full of Kryptonite by Spin Doctors – did I miss any others?