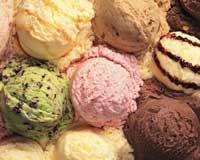 After boozing & eating, me & the guys wanted to have something sweet to finish us off for the night. It didn't take much convincing for anyone, and we decided to head to the new ice cream parlour on Press Club Road called Minus 24. I say new, cause I have never been there before and I don't know when they actually started business. But when you are drunk, who cares about asking stuff like "when did you guys set up shop?" Ya know! Anyways, we went there and decided to get some of the biggest stuff that they have there. It was the alcohol talking and we were in for a surprise cause little did we know that when you say big, these ice cream guys mean BIG!
That's not all that is special about these guys – they a Hollywood movie theme for all their ice cream combinations! Yes you read me correctly. All their ice creams are named after movies. Like 'Strawberry-Man' – two scoops of strawberry ice cream and one black currant. They even had a poster of what Strawberry-man's movie would look like. The sack of the spider was a strawberry!
Then they had 'Lord of the Creams', Ocean's 5, Me Myself & Ice Cream, Eat Me If You Can (which I had) and other stuff. Let me tell you that we were struggling to eat it since there was lots of it on our dishes. And I mean lots. But it was absolutely heaven.