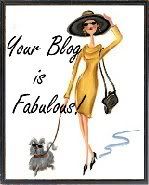 I've been selected to be awarded this rather cool blogging award by the very gorgeous Technodoll. Look at the rather fashionable chick in those high heels and stylish outfit with the little doggy. This is what she typed about me in her award ceremonial blog post:
Roshan, who is one of the most prolific and passionate bloggers that I know. Never a dull moment over in his space! Oh and did you know he's in India? Yeah. Maybe he'll send me some sun in a can now, LOL!
Wow, that is so nice of her. She is a truly wonderful person and I love her blog and she is one hot woman as well. Seriously I have like a major crush on Techno who is a real doll!! (originality is not one of my strengths, ha). Now here is my acceptance speech :
I am so good, sometimes I scare myself! I fully, completely & truly deserve it!!
Lol, ok enough kidding. Now, it's time to pass on the award and i'm gonna chose some bloggers whose blogs I think is fab and I'm also trying to chose people who I haven't passed on an award to before or I haven't in a long time.
There you go. You guys are all fab, your blogs are fab. I love you guys. I love you too Techno.