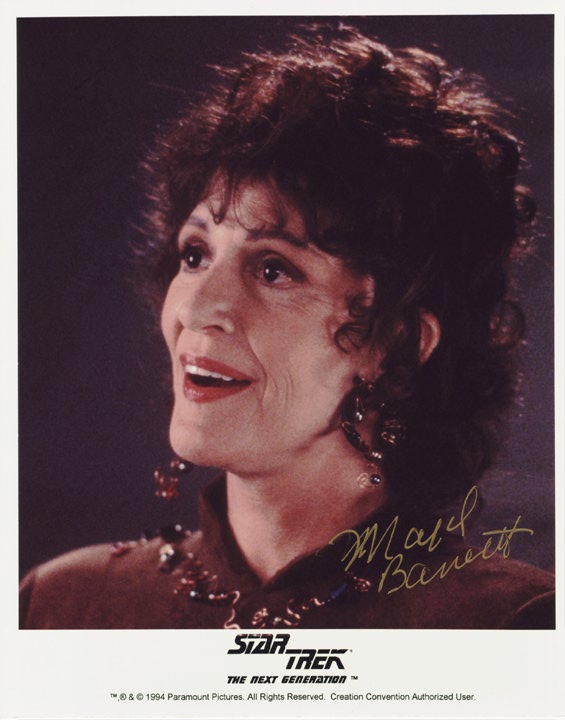 I usually check the "deaths" of Wikipedia once a week, usually on Sunday. While doing so today, I noticed that they had announced the death of the "first lady of Star Trek" Maje Barrett-Roddenberry. Barrett-Roddenberry died on December 18, 2008, at her home in Bel-Air, Los Angeles, California as a result of complications from leukemia. She was 76. The actress & producer was the widow of Star Trek creator Gene Roddenberry. She first appeared in the pilot as just "Number One" but the Network hated her character as well as the fact that Gene had cast her because she was having an affair with him. Her role in subsequent episodes of Star Trek was altered to that of Nurse Christine Chapel, a frequently recurring character, known for her unrequited affection for the emotionless Spock. In an early scene in Star Trek: The Motion Picture, viewers are informed that she has now become Doctor Chapel, a role which she reprised briefly in Star Trek IV: The Voyage Home.
She would return years later in Star Trek: The Next Generation, cast as the outrageously self-deterministic, iconoclastic Betazoid Ambassador "Lwaxana Troi", who appeared as a recurring character in the series. Her character often vexed the captain of the Enterprise, Jean Luc Picard, who spurned her amorous advances. Barrett later appeared as Ambassador Troi in several episodes of Star Trek: Deep Space Nine, where in stark contrast, she developed a strong relationship with Constable Odo
.
She provided the regular voice of the onboard computers of Federation starships for Star Trek: The Original Series, Star Trek: The Next Generation, Star Trek: Deep Space Nine, Star Trek: Voyager, and most of the Star Trek movies. She reprised her role as a shipboard computer's voice in two episodes of the prequel series Star Trek: Enterprise. Less than 10 days before her death, on December 9, 2008, Roddenberry Productions announced that she would be providing the voice of the ship's computer once again, this time for the 2009 motion picture relaunch of Star Trek.
Sean Rossall, a Roddenberry family spokesman, stated that she had already completed the voiceover work, approximately December 4, 2008.
She was executive producer of Earth: Final Conflict (in which she also played the character Dr. Julianne Belman), and Andromeda. May she rest in peace.