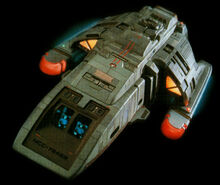 Currently the only tv series I watch on tv is Criminal Minds. I haven't seen another show that interests me and that's available on the cable channels that I get. When possible I catch reruns of The Simpsons, Friends, Everybody Loves Raymond & Seinfeld but it's not frequent. The sad state of Star World & AXN channels means less new & less diverse programing than before.
Just 3 to 4 years back they had so many great shows on every night. I'd have atleast 4 to 5 shows to catch on a weeknight and probably 3 or 4 during the weekend. However nowadays I can't stand to watch much tv, except for football matches. Fortunately there internet & cheap dvds are there for the rescue.
My current list is a sci-fi bonanza – I'm currently downloading Star Trek : TOS, Star Trek : DS9, Star Trek : Voyager, Star Trek : Enterprise and Stargate : Atlantis. I had been able to buy dvds of Atlantis Season 1-3 but the last two seasons have elluded me so I'm downloading it via torrents. Voyager is at the most advanced stage – I've got about 20 episodes left of the last two seasons to download. Once I complete that I might move on to the new Battlestar Galatica.