Kerala's smallest island originally uploaded in Flickr by kcbimal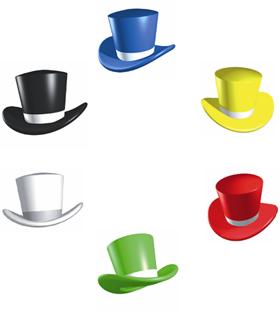 I was part of a training/workshop today which was conducted by my boss, who is the Sr.Manager of Training & Quality for Tamil Nadu & Kerala regions and who is based out of our Tamil Nadu office. It was held in the Java conference room (a really small one) of the Hotel Park Residency in Kakkanad.
For those who aren't aware, 6 Thinking Hats is a thinking tool for group discussions based on "parallel thinking" -a term coined by the implementor of the concept of an alternative to adversarial or tradional thinking. Parallel Thinking is defined as a thinking processsing where focus is split in specific directions. When done in a group it effectively avoids the consequences of the adversarial approach (as used in courts).
It's pretty good and a very useful tool if used with earnestness. I look forward to implementing it in some discussions & meetings.
After the last update , on Monday the 14th of December, the Senators paid a visit to hated provincial rivals the Toronto Maple Leafs. The Leafs just about managed to edge the Sens for a 3-2 victory. Jason Spezza & Mike Fisher scored the goals for us. Ottawa appeared to tie the game with 35 seconds left, but the referees waved the goal off when it was ruled that Jesse Winchester kicked the puck into the net.
Two days later it was the turn of the Buffalo Sabres who came calling to the Scotiabank Place. With the depleted Ottawa Senators scrambling just to put together four forward lines, goalie Brian Elliott helped bail them out with another big game. Elliott made 22 saves for his second shutout in four games, and Alexandre Picard and Fisher scored to help the Senators beat Buffalo 2-0 on Wednesday night.
Last Friday, the 18th, was a tough loss as Martin Brodeur set a NHL record for games played by a goaltender and helped make the milestone a win with 27 saves and an assist, leading the New Jersey Devils to a 4-2 victory over the Senators. Jarkko Ruutu and Picard scored the 2 goals for the Sens. With Elliot playing many games at a stretch, he needed a rest.
Mike Brodeur made a name for himself Saturday night in his NHL debut for the Sens. A distant relative of New Jersey goalie Martin Brodeur, the rookie netminder carried a shutout into the third period and Erik Karlsson scored his first career goal, leading Ottawa to a 4-1 win over the Minnesota Wild. Brodeur stopped 22 shots in his first career start after backing up Brian Elliott for 13 straight games. Anton Volchenkov, Milan Michalek and Ruutu also scored for Ottawa.