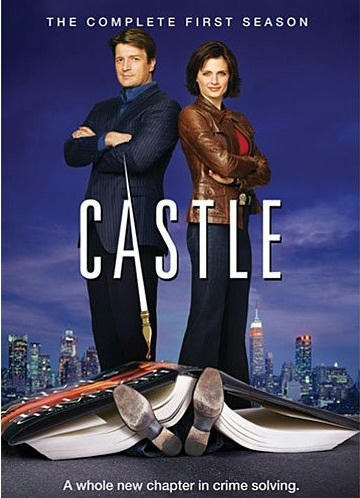 In 2010 May, mainly due to my pc dying on me and I having to wait 3 weeks to get enough money together to buy this current laptop that I'm using, I started watching a lot of tv. By that I mean actually sitting in front of the tv and watching shows on the various cable channels. Lucky for me they advertised that they were going to show Season 1 & 2 of Castle on Star World and for the next few weeks (they were showing the series Monday-Friday) I watched amused as Richard Castle (Nathan Fillion) gets called by the NYPD when they find a killer offing people in similar manner to deaths in his novels. He is asked to assist in solving the case and the killer is caught. I started getting my own copies of the first 3 seasons.
Castle is a famous & successful crime novelist who found himself with a case of writer's block after killing off the main character in his novels, Derrick Storm. Using his friendship with the mayor, he gets himself to shadowing lead homicide detective Kate Beckett (Stana Katic), going along and using his insights to assist in solving crimes. He waives off the NYPD as to be held responsible if he is is injured or killed during the cases and uses Beckett as his inspiration for the new character of his books – Nikki Heat! Beckett, is a first-class investigator who has gained a reputation for being intrigued by unusual cases. She joined the force after her mother was murdered in an unsolved case.
Watch as Castle proves to be useful in solving cases and his wit, personality & charm endearing him to the captain & other members of homicide, including a reluctant Beckett. Season 1 is only 10 episodes long (shameful) but proved to be a big success and by the end of the season we see Castle firmly entrenched as an unofficial member of the homicide squad but did he go too far in re-opening the case of Beckett's mom's unsolved murder? The season ends on that suspenseful note as he brings up the courage to tell her that he has found some new evidence that could shed new light into the case.