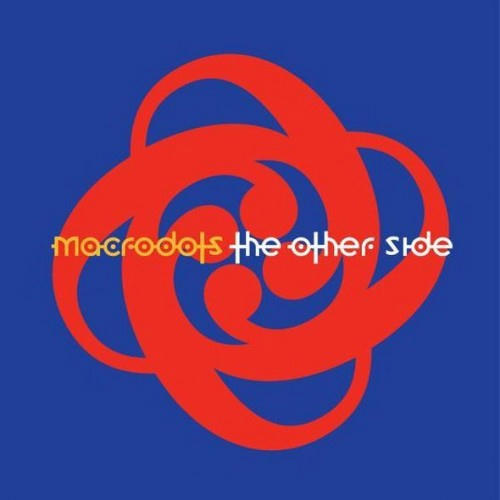 Grammy Award Nominee and four-time DIY Music Award-winner Cathy Richardson is a Chicago based singer who hit & conquered the local scene before Cathy made headlines being cast as Janis Joplin in the Off Broadway hit Love, Janis. She later toured the US with Big Brother and the Holding Co. and in 2008 became the lead singer for psychedelic rock originators, Jefferson Starship (with founding member Paul Kantner). A strong female vocalist, she then started the Macrodots with San Francisco guitarist/producer Zack Smith. Their debut album is called The Other Side.
The opening & title track sees Richardson going for the jugular with her killer vocals as she hits us full throttle. Musically the song, The Other Side, reminds me of a bit of Garbage – with balls. I really like the rhythm section on this track. The second track, Beautiful Girl, is a bit more ballad-y without being corny. A nice distorted guitar solo just adds to the feeling of longing in the song. Cathy has a voice that most female singers, and quite a few male singers, would sell their souls for. Everything Is All I Want is that obsessive, passionate lover kinda number yet cheerful & almost celebratory. Not Too Late is the hopeful kind of advice seemingly targeted to a saddened and depressed individual. The music itself has some uplifting elements to it. I love the drummers' fills in this song.
A bit in your face and, dare I say, Piece Of Me reminds me of 60's blues rock a lot like some of Kula Shaker's stuff. Todd Kerns fans would find this particular track reminiscent of a couple of songs from his 2004 solo album Go Time. The dreamy I Am sees Cathy stretch her magnificent vocal in the chorus, where the music shifts intensity. The guitars & keyboards rule on this track. Every Time reminds me a bit of something Tori Amos would do if she stood up and rocked a bit more. If I Could sees Cathy singing her socks off in this vocal showcase of what a woman with the right set of pipes can do for rock. This is the ballad that could launch the band to the limelight. Richardson could literally kick the pants of any popstar wannabe female singer across the planet on the strength of this one track. Yes they are that powerful & awesome.
A bit more in your face is Kiss My Ass a blatant fuck-you to the antagonist target of the singer's ire. The whole band lock in as one unit behind this track to deliver a strong punchy track. Raunchy Rock And Roll Part II with it's killer riff  is that rocker anthemn that we can all relate to. I can just about picture it being played live in front of a massive fist pumping & headbanging crowd, who appreciate the ballsy guitar solo and lusty vocals. The lost woman's lament in Save Me is a smoke filled bar ballad that will resonate with most people who need that helping hand. Once again, Cathy's voice is awesome and will fill your home even if the volume is kept low when you play this track. Thus ends a truly wonderful rock album.
Without having to resort to cutesy, sexy barbie doll type stuff or hysterionics or any of that nonsense that young rocker-wanna gals seem to be doing these days, mature & experienced Cathy does it the way it's supposed to be. She doesn't apologize, she doesn't back down and neither does she tone it down or pretend to be something she isn't. 100% genuine rocker with balls to spare and a voice that could knock the wind outta you. Awesome and worth spending many hours just to appreciate the songs. A must buy for those of you who like rock n'roll and want to listen to what a lady rocker should sound like.