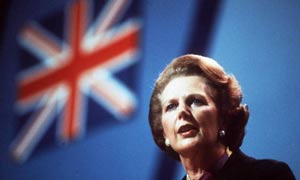 Former British Prime Minister Margaret Hilda Thatcher has died today at the age of 87 of a stroke. The Right Honorable  Baroness  is the longest-serving (1979–1990) Prime Minister of the United Kingdom of the 20th century, and the only woman ever to have held the post. The Iron Lady as she was nicknamed for her uncompromising politics and leadership style. Thatcher — born in October 1925 in the small eastern England market town of Grantham — came from a modest background, taking pride in being known as a grocer's daughter. She married her husband, Denis Thatcher, a local businessman who ran his family's firm before becoming an executive in the oil industry, in 1951 — a year after an unsuccessful run for Parliament. The couple had twins, Mark and Carol, in 1953.
Originally a research chemist before becoming a barrister, Thatcher was elected Member of Parliament (MP) for Finchley in 1959. Edward Heath appointed her Secretary of State for Education and Science in his 1970 government. In 1975 Thatcher defeated Heath in the Conservative Party leadership election and became Leader of the Opposition, as well as the first woman to lead a major political party in the United Kingdom. She became Prime Minister after winning the 1979 general election. In the midst of her 3rd term (relected in 1987) she resigned as Prime Minister and party leader in November 1990, after Michael Heseltine launched a challenge to her leadership. Thatcher held a life peerage as Baroness Thatcher, of Kesteven in the County of Lincolnshire, which entitled her to sit in the House of Lords.
As Prime Minister, she implemented Conservative policies that have come to be known as Thatcherism. She is the titular character in two films, portrayed by Lindsay Duncan in Margaret (2009) and by Meryl Streep in The Iron Lady (2011), in which she is depicted as having Alzheimer's disease. There was never a lady leader like her and perhaps there never will be another.