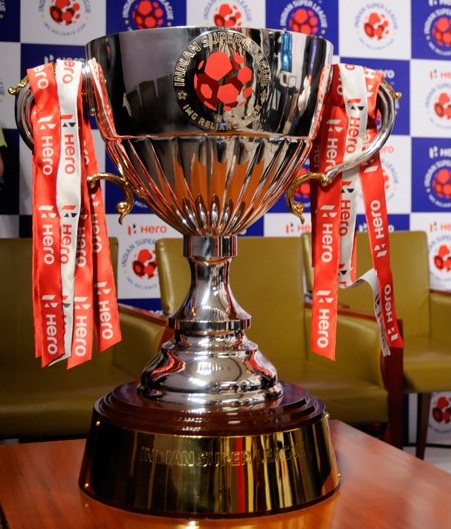 This is it. This is the trophy for which 8 newly formed teams in the inaugural Indian Super League will be fighting for. October 12th 2014 sees the start of the Indian Super League, a top tier league in Indian which features some of the best Indian players along with international stars, most though in the twilight of their careers. The league will run from October to December, with a finals series determining the champion. The formation of the league is an effort to bring some big money sponsorship to the beautiful game in India, where it stays on the sidelines both in glamour, achievements and financial benefits to cricket.
Indian football hopes that the big names and the hype will inspire more Indian footballers to spring forth from academies across the nation and also bring foreign talent, investment and investment to the next generation of footballers for us. The kind of investment that cricket has seen and hogged the limelights for so long! Unlike the majority of football leagues around the world, the ISL will not use the promotion and relegation system. Instead, the ISL will use a franchise system in which eight teams will be created to participate in the league. During the regular season, each team will play each other twice on a home and away basis. The top four teams at the end of the season will qualify for the finals series. The semi-finals will be played in a two-legged format with the winners moving onto the one-legged final. The Indian Super League will also consist of controlled rosters. Each team must sign at least one marquee player while they must also sign seven other foreigners. Of these seven foreigners, only two can be signed directly by the club with the other five coming from the foreign player draft. Each team must also have 14 Indian domestic players, four of which being local players to the city.
Above are the logos of the 8 teams. Below are some details like stadium, cities and marquee players plus coaches. I just hope this won't become a Bollywood production and a hyped up bauble of a shame gimmick. This is India after all and with a lot of focus and news print given to the celebrity owners and stuff! The players seem almost lost in the midst of all this.