I have never heard of the name Flavia Pennetta before this weekend but her's is a feel good story of ending on a high. Having just been crowned the 2015 US Open Women's Champion, her first single's Grand Slam title, at the age of 33, Flavia stunned the 23,000 crowd by announcing her retirement from the game. She will end her career in a low key fashion in China, after the drama of the finest hour and a half of a career that properly began at the age of 17, when she won the French Open girls doubles with her close friend Roberta Vinci in 1999, and rose to a glorious peak here on Saturday, when she beat the rain by four minutes and her compatriot by 7-6, 6-2 in the first all-Italian major final.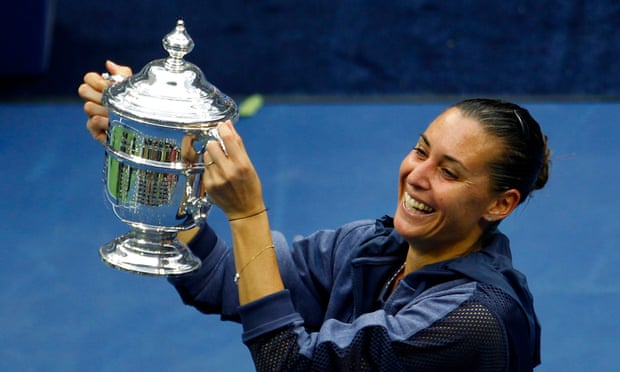 Marion Bartoli won Wimbledon in 2013 in her 47th major campaign, then quit a couple of months later after losing to Halep in faraway Mason, Ohio; Pennetta, who won a major after 49 attempts, will say goodbye to her sport in Wuhan, then Beijing. She had success here and there, winning 10 titles before Saturday, where victory lifted her from No26 in the world to No 8. Not only was her hunger for tennis waning – she almost quit last year with a wrist injury – but she had found love again. Beaming down from the stands in celebration of her triumph on Saturday was the Italian tennis radical, Fabio Fognini. Pennetta was pronounced a Knight of Order of Merit of the Republic on 24 January 2007 by Carlo Azeglio Ciampi, then President of Italy.
Being able to go out on a personal high is a chance that so few get the chance to do. There are still some major titles left in the calendar year but the US Open is the last slam of the year and choosing that moment to announce your retirement must have been an emotional rollercoaster for her. Yet it is also a envious moment for many.