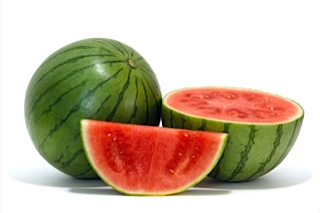 Oh man, it is terribly hot and humid. I do not feel like drinking coffee or just plain water. I wanna bath in ice water and lie in a bathtub of ice water. I wanna jump into a pool filled with really cold ice cream milkshake and just let the stuff slip and slide all over my naked body. Ok I might want to have a full body shave or wax all over before I do that.
But what I really crave is cold watermelon. It is tasty and cools you down a lot. I remember thinking about this this whole day. Today has been hot & bloody humid. It doesn't help that I just had a dinner that had had a really hot mushroom curry. It is burning in my chest and belly at the moment.
Anyways, coincidence – mom & dad happened to have visited the nearby fruit stall on their way home from a walk and they bought a large watermelon which is chilling in the fridge. I cut up a few slices which are too cold so I am waiting for it not be too cold so I can easily eat it. But it will be juicy and it will be sweet and it will down as a treat. And cool myself down really well.