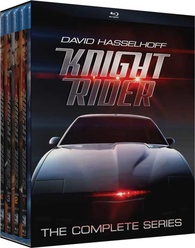 Knight Rider is an American entertainment franchise created by Glen A. Larson. The core of Knight Rider is its four television series: Knight Rider (1982–1986), stars David Hasselhoff as Michael Knight, a high-tech, modern crime fighter assisted by KITT, an advanced, artificially intelligent, self-aware, and nearly indestructible car voice by William Daniels. Edward Mulhare as Devon Miles, the leader of FLAG, Patricia McPherson as Dr. Bonnie Barstow (Seasons 1, 3-4), KITT's chief technician, Rebecca Holden as April Curtis (Season 2), chief technician for KITT & Peter Parros as Reginald Cornelius III aka RC3 (Season 4), driver of the FLAG mobile unit and occasional sideman were the other main cast members.
Now I know that they have had revival of the show in various formats but the main one is ofcourse the original and it is way more popular and part of pop culture as an icon of the 80s. It is well know and I know that it has it's really cheesy moments, as was par for the course, for 80s tv shows that served as more or less a family entertainer. It was hugely popular and I enjoyed watching the four seasons when I was a kid. My dad & sis watched it with me and mom whenever she felt like it as well. Growing up in Kuwait, it was more or less one of the top 3 shows of the time and all my friends loved the car and the adventures of Michael Knight. I also remember that at one time, maybe at the age of 8 or 9, I asked my parents to change my name to Michael mainly because of the character.
I haven't watched any of Knight Rider since 1987 when I left Kuwait along with my family and moved back to India. At many times I have been made aware of the show's reruns happening on some cable tv channel or the other but I just never had the urge to sit and watch some. The 2008 show pilot also did not interest me much and I stopped watching it after a few minutes. But the original still has it's charms. And finally, maybe for nostalgic reasons, I think I have generated enough interest in me to watch the show again. Mind you I have watched some episodes multiple times but I haven't since I turned 13 so that is a long, long time ago.
Hopefully I will watch it soon.