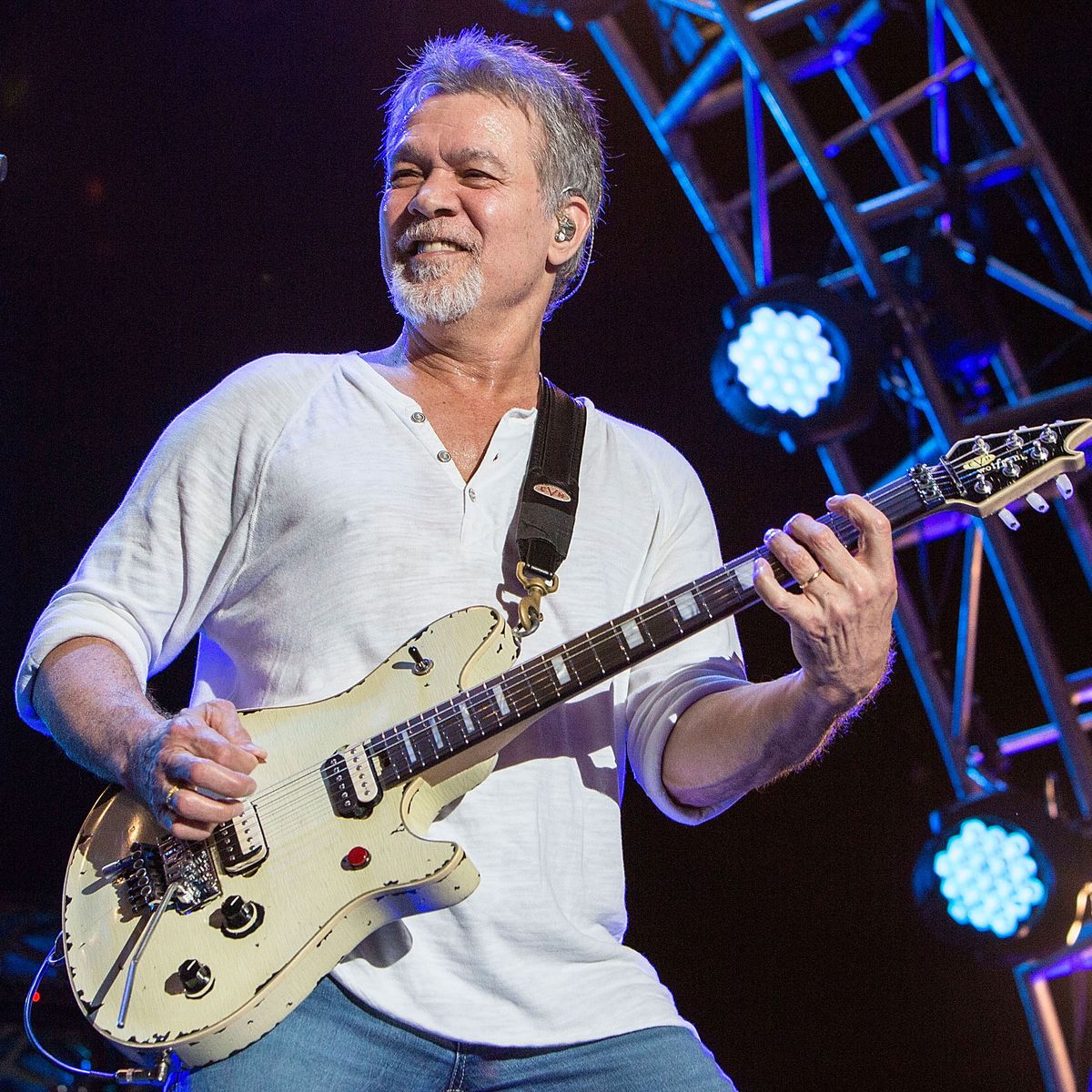 Eddie Van Halen, whose pressing inventiveness lofted him among the all-time elite guitarists and whose life epitomized both the aspirational American dream and the rough-and-tumble of rock 'n' roll, died Tuesday after battling cancer. He was 65 years old. He was the main songwriter and lead guitarist of the American rock band Van Halen, which he co-founded in 1972 with his brother, drummer Alex Van Halen, bassist Mark Stone, and singer David Lee Roth. He was well known for popularizing the tapping guitar solo technique, allowing rapid arpeggios to be played with two hands on the fretboard. In 2012, he was voted number one in a Guitar World magazine reader's poll for "The 100 Greatest Guitarists of All Time"A self-taught musician, Mr. Van Halen popularized the two-handed tapping technique of playing with both hands on the neck of the guitar. The style, which showcased how blindingly fast he could pick out a melody, helped make "Eruption" what is widely considered among the greatest guitar solos of all time. With his brother he formed the basis of Van Halen, the band that made hard rock's comeback in the 1980s.
Born in Amsterdam to a classically trained clarinetist, saxophonist and pianist father, brothers Eddie and Alex Van Halen got an early taste of stage life, playing piano with the band aboard the ship on which the family immigrated to the U.S. Eddie, then 7 years old, had started learning piano at age 6, and continued lessons after the family settled in Pasadena, Calif. He placed in local competitions, but never read music, instead learning by watching and listening. He quit and began playing the drums; his brother, Alex, the guitar. According to Mr. Van Halen, he would find Alex playing his drums and thought his brother more talented so he took up the guitar instead. By the early 1980s, Van Halen was one of the most successful rock acts of the time. The album 1984 went five-times platinum a year after its release. The lead single "Jump" became the band's first and only number-one pop hit and garnered them a Grammy nomination.
The band won the 1992 Grammy Award for Best Hard Rock Performance with Vocals for the album For Unlawful Carnal Knowledge. In 2019, the band ranked 20th on the RIAA list of best-selling artists with 56 million album sales in the United States and more than 80 million worldwide. Additionally, Van Halen charted 13 number-one hits in the history of Billboard's Mainstream Rock chart; meanwhile, VH1 ranked the band seventh on a list of the top 100 hard rock artists of all time and, in 2007, Van Halen was inducted into the Rock and Roll Hall of Fame. Individually, Eddie received acclaim for his guitar work in the band.
Eddie engaged in several projects outside of his eponymous band, including solo work and partnerships with his brother on film soundtracks (such as The Wild Life, Twister, and a pornographic film) as well as musical collaborations with Kiss bassist Gene Simmons, Nicolette Larson, Michael Jackson, Brian May, Sammy Hagar, Black Sabbath, Roger Waters, Toto guitarist Steve Lukather, and LL Cool J. In addition, Eddie made cameo appearances in the music video for Frank Sinatra's "L.A. Is My Lady" and an episode of Two and a Half Men. Eddie was also an inventor on three patents related to guitars: a folding prop to support a guitar in a flat position, a tension-adjusting tailpiece,and an ornamental design for a headstock.
Eddie used custom equipment throughout his career. His original choice of guitar was a Gibson Les Paul, which he replaced the original P90 pickup on the bridge with a humbucker in order to sound like Eric Clapton. He is most associated with the Frankenstrat, a custom guitar he built from parts. The ash body and maple neck cost $130, while the body was bought for $50 as the wood had a knot in it. The tremolo arm was originally taken from a 1958 Fender Stratocaster, and was later replaced with a Floyd Rose arm. The guitar had a single Gibson PAF (patent applied for) bridge pickup from a Gibson ES-335, which he enclosed with paraffin wax to prevent feedback. The Frankenstrat was originally painted black, but was recoated with Schwinn red bicycle paint in 1979. For Van Halen's 2012 tour, and early 2015 television appearances, he used a Wolfgang USA guitar with a black finish and ebony fretboard. For the 2015 tour, he used a white Wolfgang USA guitar designed by Chip Ellis, featuring a custom kill switch.
In 1980, Van Halen met actress Valerie Bertinelli at a Van Halen concert in Shreveport, Louisiana. They married in California a year later and had one son, Wolfgang. In 2005, Bertinelli filed for divorce in Los Angeles after four years of separation. The divorce was finalized in 2007. The following year, Eddie proposed to his girlfriend, Janie Liszewski, an actress and stuntwoman who was Van Halen's publicist at the time. The two married in 2009, at his Studio City estate, with his son Wolfgang and ex-wife Bertinelli in attendance. Van Halen struggled with alcoholism and drug abuse. He began smoking and drinking at the age of 12, and he stated that he eventually needed alcohol to function.
He entered rehabilitation in 2007, and later shared in an interview that he had been sober since 2008. Van Halen underwent hip replacement surgery in 1999, after his chronic avascular necrosis, with which he was diagnosed in 1995, became unbearable. He began receiving treatment for tongue cancer in 2000. The subsequent surgery removed roughly a third of his tongue. He was declared cancer-free in 2002. n 2012, Van Halen underwent an emergency surgery for a severe bout of diverticulitis. Recovery time required due to the surgery led to postponement of Van Halen tour dates scheduled in Japan.