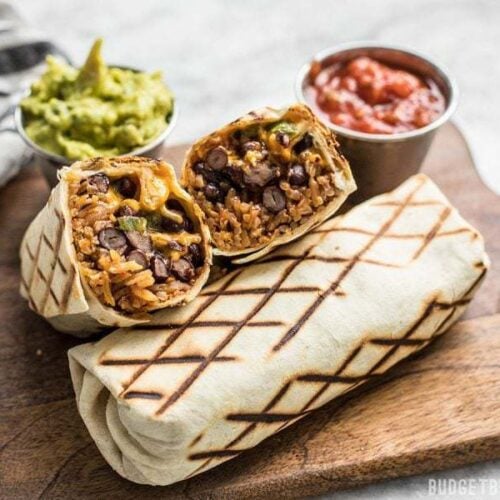 Growing up, one of the elusive fast food items that I had seen in many a Hollywood movie or American tv show was the burrito. Not during the 11 years growing up in Kuwait or til very recently did I ever see burritos around me. A little over till 3 years ago I had heard of a Mexican themed restuarant in Kakkanad but I never got the chance to go there. However a few weeks after that I was in Cafe 17 in Kaloor and I saw that they had a minced beef burrito as well as a veggie one. Ofcourse I was gonna try it!
A burrito is a dish in Mexican and Tex-Mex cuisine consisting of a flour tortilla wrapped into a sealed cylindrical shape around various ingredients. The tortilla is sometimes lightly grilled or steamed to soften it, make it more pliable, and allow it to adhere to itself when wrapped. Burritos can also be served "wet", that is to say covered in a savory and spicy sauce, where they would be eaten with a fork and knife rather than the convential hand held meal it usually is.
Burritos are filled with a savory filling, most often a meat such as chicken, beef, or pork, and often include a large array of other ingredients such as rice, cooked beans (either whole or refried), vegetables such as lettuce and tomatoes, cheese, and condiments such as salsa, pico de gallo, guacamole, or crema. Cafe 17's burritos was devoid of salsa and quacamole but it has the rest. And then in late 2018 (just before Christmas) Taco Bell launched in my city. I have enjoyed a couple of burritos from there and even a taco but I really prefer the burrito. They are fun, versatile (for any meal of the day and uses all sorts of ingredients), and also happen to be extremely tasty! A single burrito would make up a whole meal, as they are quite filling.