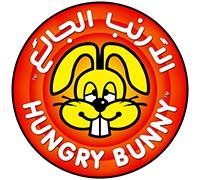 Let's look at a blast from the past, an icon of my childhood days. Hungry Bunny is a local restaurant fast food chain that opened up in the early 80s in Kuwait. It was inspired by a Australian franchise called Hungry Jack which was what Burger King was called in Australia back then.
Although it wasn't something we frequented often, from time to time my parents go me & my sis some of the burgers for dinner. If I remember correctly for a time they also sold frozen patties which is what I mostly remember them from. I remember having a couple of the burgers during the 1986-87 school year because my classes started in the afternoon and we came home in the late evening. So dinner would be waiting for me and I really like the Hungry Bunny burgers.
In 1997 Al Homaizi Foodstuff Co. who owned Hungry Bunny got the rights to Burger King. Since they couldn't have two competing franchises they decided to close down all the Hungry Bunnys and open up Burger Kings in the same locations. For the longest time it seems that to get a Hungry Bunny burger you had to go to Saudi Arabia where the franchise still exists there. Here is the link to their website: www.hungry-bunny.com.
I also loved their catchy commercials.