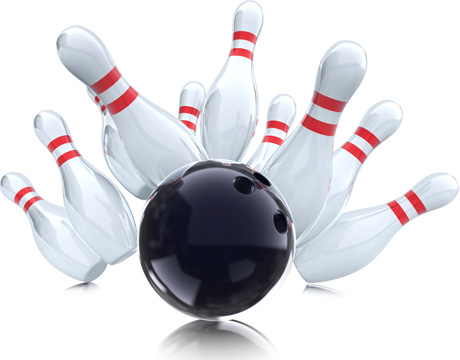 Health Benefits of Bowling – Bowling has one of the longest and richest histories of all sports, dating back approximately 4,000 years ago to Greece and Rome. If you have watched the sport, or game if you prefer, and would like to get into it here are some reasons to get into it and possibly join a local league. There are many important physiological and physical attributes of a successful bowler, including exceptional hand/eye coordination and balance, good flexibility, strength and aerobic fitness and low body fat. A good musculoskeletal system maximizes bowling power and control while minimizing injury risk.
Muscle Strength : Bowling is a sport! It requires a combination of lifting, bending, and extending. Each time you bowl, you utilize your arms, shoulders, wrists, and legs to propel the ball down the lane. The more you bowl, the more muscle strength you'll build. This is especially true if you increase the weight of your ball as you continue to bowl.
Improved Flexibility : You can bet that the more you bowl, the more flexible you'll become. Bowling requires an extensive range of motion. Not only are you lunging and twisting regularly, but you also have to stabilize your muscles in order to balance as you approach the lane. The more you practice, the more stability and flexibility you'll develop.
Hand-eye coordination: Throwing the bowling ball and hitting the pins requires a great amount of hand-eye coordination. This kind of focus stimulates mental alertness, concentration and tactical strategy. This makes bowling the perfect game for young people to sharpen motor skills and hand-eye coordination, and for older people to refine tactics.
Can be enjoyed at any age: Bowling is one of the few sports that allows you to compete at any age and become a pro. The game is enjoyed by everyone from preschoolers to senior citizens and is currently the fastest growing high school varsity sport. There's a low risk of injury, which makes it a popular game for older individuals. Many bowling alleys can accommodate those in wheelchairs and bowlers who are blind.
Fun for the whole family: A large contributing factor to the simplicity of this game is the immense adaptability that it offers. The rules of the game are very easy to understand and learn, and the automatic scoring systems take care of all the scoring for you. So bring your children and your parents, buy some snacks & soft drinks at the counter and make a day of it.