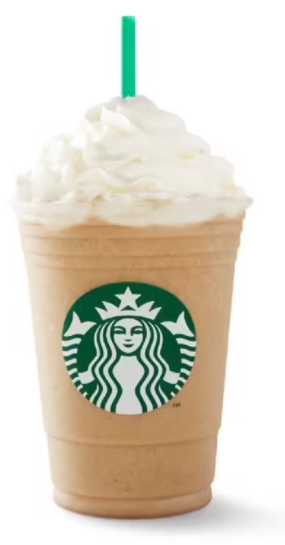 A delicious caffeinated white chocolate and coffee frozen drink that's made for hot & humid days like today. I found myself craving a cold beverage at noon and I hopped onto my Zomato app and checked out the frappes available at the nearest Starbucks. I have had almost all but 2 and the other is a green matcha tea frappe so I thought, let's try this one first. White chocolate Frappuccino® Roast coffee, milk and ice get together for what might be the best thing that happens to you all day. Oh, and there's whipped cream on top.
What's in it: Ice, milk, coffee Frappuccino syrup, whipped cream, coffee, white chocolate mocha sauce.
How much caffeine: 65 milligrams for a tall. Mine was a grande.
Ok as I said this is a heaven sent on a hot and humid day. As all cold frappes as but I digress. It isn't going to be my favourite one from Starbucks but I do want to tell you that if, like me, you do not mind getting your white mocha on once in a while (I'm a sucker for regular milk chocolate and dark chocolate) then you will enjoy this one. It's got everything going for it.
Once I got it delivered to my apartment I put it in the fridge for a little while. Like 2 hours almost. White chocolate is a popular flavor at Starbucks and shows up in 17 popular drinks. Post a disappointing lunch, I was waiting until I needed a pick me up and then, pausing my work, I went to the fridge to get the cup. And it was well worth the wait. Starbucks uses white chocolate mocha sauce (shortened to white mocha) to make their hot and iced white chocolate drinks. There's no coffee or caffeine in the white mocha sauce and it tastes like sweet milk, like sweetened condensed milk. It's an 8.5 outta 10 from me!