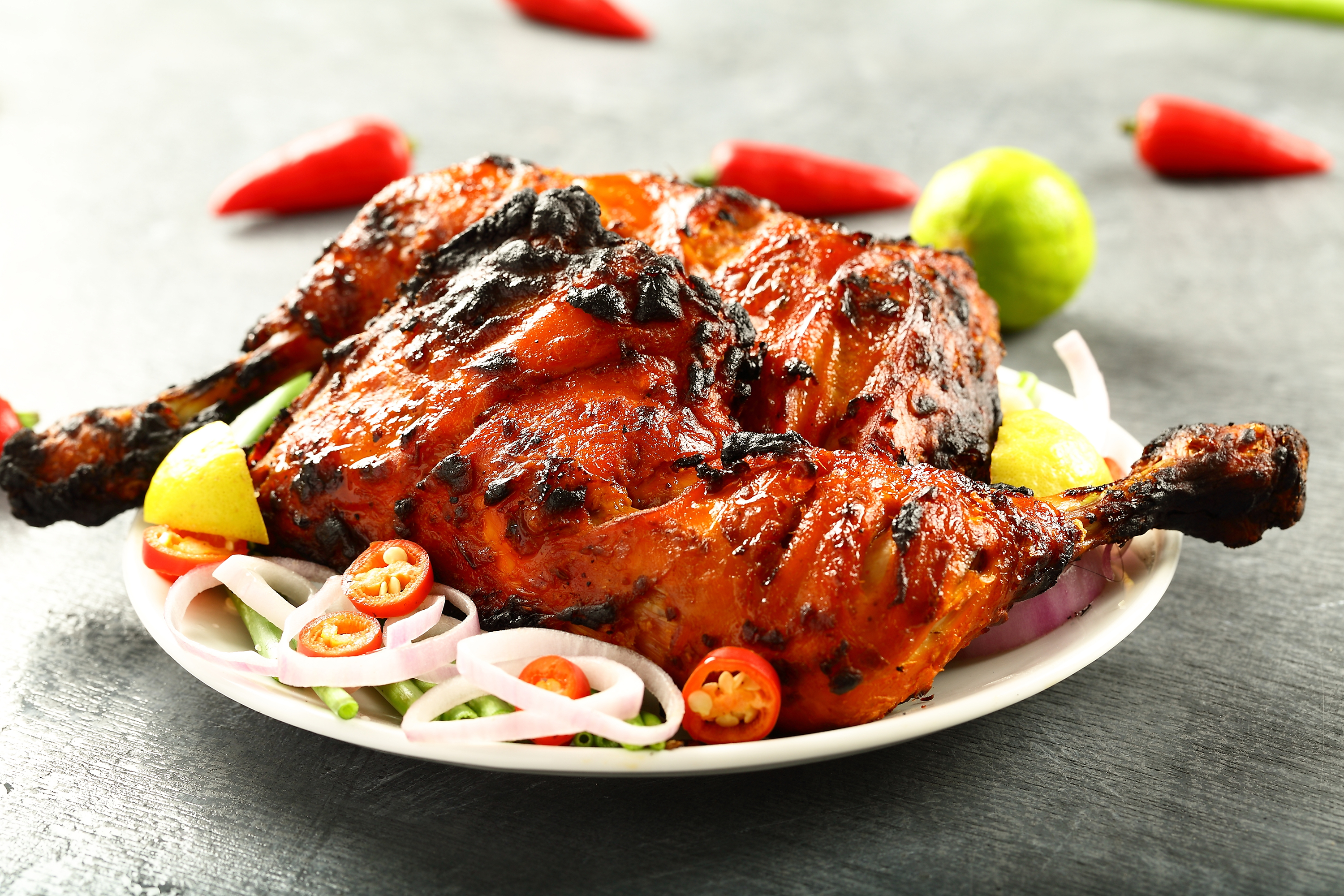 Tandoori chicken – a classic chicken starter or main dish! This grilled chicken is a popular Punjabi food that can be served with onion rings and a green chutney. The juicy and full of spice chicken pieces just fill you up with its delectable taste and makes this dish of Tandoori Chicken a must have snack at a dinner party with family and friends.
Ingredients of Tandoori Chicken
8 Large chicken pieces with skin (2 pieces breast, 2 pieces of thighs, a couple of wings)
to taste oil
For the marinade:
4 tsp red chilli paste
3 tbsp ginger and garlic paste
2 tsp chaat masala
1 1/2 tsp tandoori masala
1 tbsp oil
3 tbsp curd
to taste salt
1/2 lemon (juiced)
For the tandoori masala:
2 Cinnamon sticks
1 tbsp black peppercorns
5 green cardamom
3 brown cardamom
2 tsp coriander seeds
2 tsp cumin seeds
3 cloves
1 Bay leaf
3/4 tsp turmeric
How to Make Tandoori Chicken
Prepare the marinade:
1. In a bowl add ginger and garlic paste, red chilli paste, chaat masala, tandoori masala, oil, curd, salt and lemon juice. Mix it well.
2. Rub the marinade on the chicken pieces, over the skin and underneath it. Make small gashes in the chicken pieces for the marinade to coat it nicely.
3. Marinate the chicken pieces for 30 minutes.
4. Char grill the chicken pieces on a griller or tandoor. Baste with oil at regular intervals.
5. Serve with lemon wedges and onion rings.
Prepare tandoori masala:
1. In a pan dry roast cinnamon, peppercorns, green cardamom, brown cardamom, coriander seeds, cumin seeds, cloves, bay leaf and turmeric powder.
2. In a mortar and pestle grind the dry roasted spices into a fine powder. Masala is ready.
3. If you are making it in an oven, the temperature needs to be around 250-300 degrees C.
4. Serve hot.