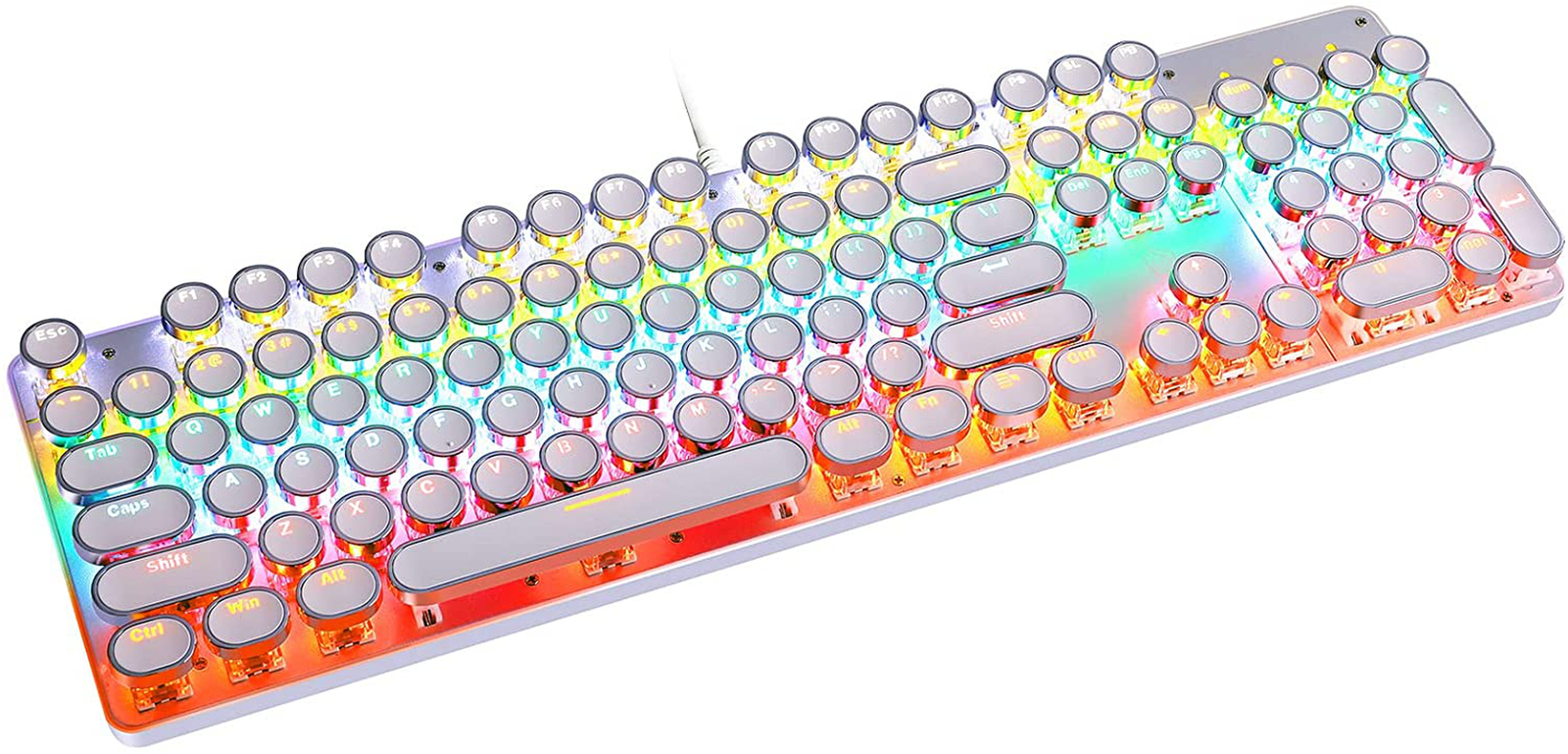 One of the things I have noticed is that in the last couple of years, it seems that these retro mechanical style RGB keyboards have been a craze among many techies, gamers and even regular people who love the look and feel of them. How come these old typewriter style keyboards have become so popular? I mean I love the colourful lights and that some of them have, like this one in the picture. An RGB keyboard is versatile, allowing you to select any of the 16+ million colors of the RGB wheel and apply them on a per-key basis, whether individually or in sets. This makes RGB keyboards a big, colorful step beyond the old-style backlit models or the ones that display just a few basic colors.
Then there is the mechanical aspect; on mechanical keyboards, each plastic keycap covers a physical switch that goes up and down. It can be triggered not just when you push the key all the way down, but even part of the way down. As a result, you can type faster and more comfortably on these keyboards. A lot of people seem to like the clackity clack clack sound on typing each word. The colour options (the ones I have seen, like the example shown above) have 8 to 10 types of setting changes for the colours. They light up like a dream, add unlimited fun to the game.These modes will give you more enjoyable when you gaming or typing at night.light up the alloy to awaken your gaming passion.
Laser engraving technology ensures that the LOGO will not fade. The fashion retro steampunk keycap uses a two-color injection molding process, anti-fading, strong wear and tear away from the long-term use of character fade trouble, not dazzling, no oil,even light and maintain good light transmission. I'm told that some people find typing and editing content easier to use on these mechanical keyboards and the lights are more for aesthetic & fun purposes.