Have a spa day. It might not be as glamorous as a real day at the spa, but you can still make your own home feel like a peaceful retreat. Try a face mask with cucumber slices or an Epsom salt bath.
A staycation is the perfect opportunity to dive into a good read—or several! Set up a hammock in your backyard or lay out a blanket under a tree and let yourself unwind with a good book. If you live in an apartment building get a recliner and some tea/coffee.
Take a hike in the great outdoors, canoe the local river, or enjoy a peaceful walk in a nearby park. Pack a lunch for the trip and enjoy a picnic with your family, or even grab your running shoes to hit that runner's high!
Pitch a tent, light the fire, and make some s'mores. When it's time to call it a night, crawl into the tent and sleep under the stars. (Or you can bring the gang back inside to sleep in your comfortable beds too—we won't judge.)
Plan movie nights. You don't have to leave your house to catch a good flick. Rent a movie—or even better, stream one for free. This is the perfect time to tackle a marathon of trilogies or introduce your kids to iconic classics for the first time. But don't forget the snacks! Grab some popcorn and candy from a grocery store and you'll be set.
Stay somewhere new. Let's be clear: It's okay to stay at your house during your staycation (and it saves major money not having to pay for a hotel or bed-and-breakfast). But if you do want to switch it up, check in to a local hotel or Airbnb for a night or two. It's amazing how getting away to a new spot in your hometown can feel so refreshing.
Prompt from 170 Creative Summer Blog Post Ideas for All Bloggers at Nikki Blogs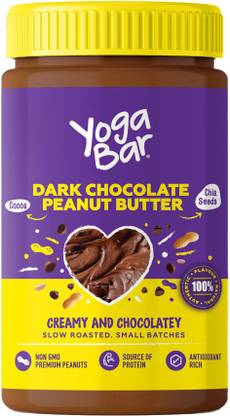 If you like dark chocolate and peanut butter than one of the options you can try is the YogaBar Dark Chocolate Peanut Butter. This is from their latest range of food products that are heavily advertised online has a delicious taste. I am used to their YogaBar protien bars which are really good but they also have peanut butter and oats. Now the dark chocolate ones come in either crunchy or creamy but I never buy the crunchy ones.
The most valuable feature is the peanuts are slow-roasted. It is said that the more roasted peanuts are, the better it is. How does it taste? It isn't very sweet and infact is not as sweet as most regular peanut butter. It has it's natural oil when you open it, so it is best to do a good mix before you use it. Best with toast or buns or chapathi. You get the taste of dark chocolate a lot more than the peanut butter but after you take your first chew you will slowly get the texture of peanut butter. It has 26% Protein per serving, is high in fibre, zero Trans fat & Zero Cholesterol.

Ideally do not refrigerate it, though you can. Instead store it in a cool, dark place and enjoy whenever you want to get that toast or chapati. I dunno if this is gonna replace the usual brands of peanut butter I buy right now, since it has chocolate in it but it sure is good. 4 outta 5 stars or 8.5 outta 10!