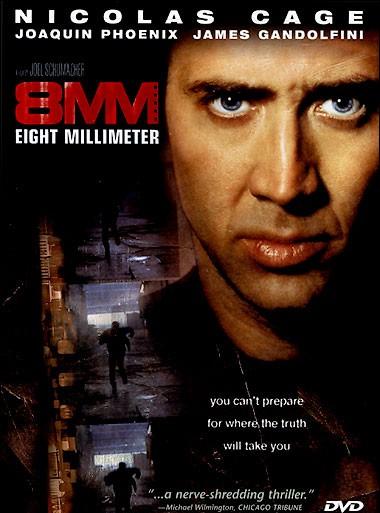 Directed by Joel Schumacher and written by Andrew Kevin Walker, 8mm is a crime-thriller mystery style movie from 1999 starring Nicholas Cage along with Joaquin Phoenix, James Gandolfini, Peter Stormare, Anthony Heald, & Catherine Keener. A younger Norman Reedus has a small role as well. The movie dwells into the world of snuff films and the shady part of adult films.
Tom Welles is a private investigator, who having just wrapped up a case in Florida is contacted by Daniel Longdale, attorney for wealthy widow Mrs. Christian, whose millionaire husband has recently died. Tom was highly recommended and Mrs. Christian urges him to discretion. Apparently while cleaning out her husband's private safe she came across an 8mm film in which a young girl is brutally treated and a man in a mask appears to kill her. The widow wants Tom to find out if the murder is real, which he agrees to after sitting through the disturbing film. Tom says good bye to his wife and baby, and heads to Cleavland to start the investigation of missing persons. Eventually he finds that the girl's name was Mary Ann Mathews and he contacts her mother Janet. While searching the house with her permission, he finds Mary Ann's diary, in which she says that she went to Hollywood to become a film star.
Tom next heads to Los Angeles and searched stores that sell S&M, Bondage and hardcore porn magazines and films. He meets and enlists the help of a sex shop employee and former musician named Max California to penetrate the underworld of illegal pornography. This leads them to find out that the masked man, named "Machine" who is a frequent performer for noted director Dino Velvet's violent pornographic films. This leads them to talent scout Eddie Poole and after tapping his phone Tom has him agree to arrange a meet with Velvet, pretending to be a client interested in commissioning a hardcore bondage film to be directed by Velvet and starring Machine. Velvet agrees and arranges a meeting in New York City. All this while it is shown that someone is following and tracking Tom's movements. Tom does not want Max to continue with him fearing that the events that follow will be dangerous and gives him a ticket to go back to LA. At the meet Tom finds attorney Longdale there who explains that Mr. Christian had contracted him to procure a snuff film – confirming that the snuff film was real and that Mary Ann is dead.
Longdale had contacted Velvet informing him that Tom might come looking for him and Eddie & Velvet drag a bound and beaten Max. They force Tom to bring them the only surviving copy of the illegal film. He delivers it, but before he turns it over, they kill Max and beat Tom and then burn the film. Before they can kill him Tom tells Velvet that Christian had paid $1 million for the film but as Longdale had only handed over a lesser amount for the film, Dino thinks that Longdale cheated him outta his proper fee. Velvet and Eddie corner Longdale and in the ensuing argument both Velvet and Longdale are both killed while Tom wounds Machine and escapes. Tom warns his wife to get out of the house and stay in a motel and he goes to see Mrs. Christian after calling her ahead of going there and telling her the details. After meeting his wife Tom goes to see the widow but finds that she committed suicide and has left him a large sum of money as well as some for Janet Mathews. Tom decides to take matters in his own hands and tracks Eddie, taking him to the run down shack where Mary Ann was killed.
Finding Eddie with no remorse for the murder of a young girl, Tom is unable to bring himself to kill him at first but he calls Janet and tells her the truth about her daughter's fate and asks a devastated Janet for her permission to punish those responsible, to which she says yes. He then kills and burns Eddie's body along with the shack and also throws out all the porn stuff he found during the investigation. He then tracks Machine at his home and finds behind the mask a balding, respectable man and is surprised at how ordinary he looks. Machine asks if Tom expected some kind of monster and attacks Tom, telling him that has no ulterior motive for his sadistic actions; he does them simply because he enjoys it. They struggle, and Tom kills him. After returning to his family, Tom receives a letter from Mrs. Mathews, thanking him for killing the men responsible and suggesting he and she were the only ones to care about Mary Ann.
Quite brutal in places but I was expecting a lot more. It definitely shows the sleazy, grimy side of the adult industry and how filthy people can be. I dunno why I waited so long to watch this film. 8 outta 10!