We drink them, we swallow it down, some of us really take our time with it and appreciate it, while some of us just chug it down. Some of us like to drink it straight from the bottle; hell if the bartender allowed us we'd just open our mouth underneath their taps and gulp it down. And then some of us like to drink them in lenders on line glasses.
What I didn't know until I started drinking beer regularly at the age of 18/19 is that you have special glasses for beer. And for many years I thought that there was only one type of glass for beer – the beer mug, or in the original German the stein, which is my favourite way to drink beer. Heck I used to make fresh fruit juices at home on my juicer and drink them in a large stein for some years! Pineapple & watermelon juices never tasted or looked any better.
Then a few years ago I discovered that there were many types of beer & beer glasses, not available here where I live but still there in most western countries and what's more – each type of beer must be drunk from the recommended type of glass. So let's say that each beer glass is a category and the different types of beer are allocated to a category of glass. Recommended to drink from it ofcourse, to get the full aroma and such which only a beer expert can describe. But here are the type of beer glasses listed below: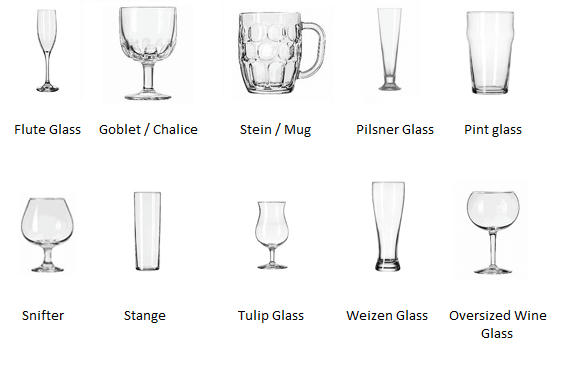 I've used the mugs, the stange & pilsner glass to drink beer here. What all types do you have?