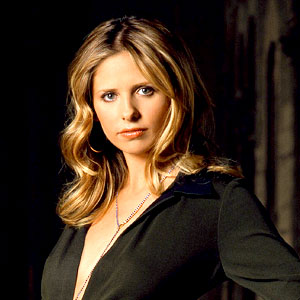 As there's not much good that I feel like watching on the cable tv channels (it's been this way for the past 3 years) I've ben on a downloading spree ever since I discovered the world of torrents. My main intention was ofcourse to get the tv series that I have loved over the years, the ones I will never get tired of watching over & over again. And ofcourse also find newer series or ones that I have never seen at all and see if those are ones that I will like.
One of the best over the years and a personal favourite of mine (and yours too I hope) is Buffy The Vampire Slayer. Probably responsible for teaching a whole generation of people about vampire folklore & creating new ones, Buffy was a worldwide phenomenon that lasted for 7 seasons. You could not help but include references to Buffy and her friends into your daily academic or work culture. Heck the series was so popular that we even named a Dobermann dog that belonged to my cousins, after the lead character! My cousins got a female Dobermann (or is that Doberwomann?) puppy and while naming it we immediately thought of the name Buffy. And it was because of our combined hatred for the jerkoff an aunt of ours had married, we named her – Buffy the (insert relative's name here) killer!
Anyway, watching this series brings back lots of fun memories for me. I watched it with a fierce passion – for the sexy young actresses Sarah Michelle Gellar & Charisma Charpenter (in the latter's cases for 3 season and then I watched her in Angel). I still hold magnificent crushes & flames for both women and watching them in the early episodes is just fueling my old desires. Watching them here…..younger, ripe, nubile, sexy……..oh sorry, just drifted off for a minute. Don't know what happened; my vision went blurry and my mouth is drooling.  Anyway, I love the show and I'm about halfway through the second season and enjoying every nostalgic minute.