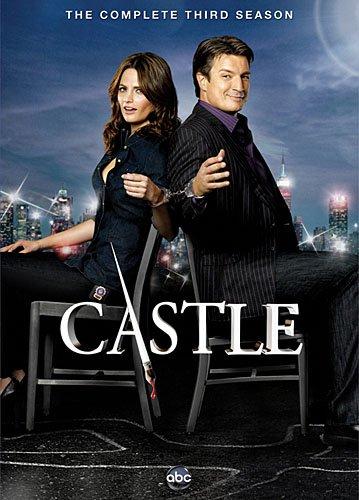 So we are now in Season 3. Summer has passed on by and still no Castle. Beckett and the team seem to miss him. Turns out that immediately after finishing his latest book and sending it for publishing, Castle was pulled into a publicity tour. When Beckett, Ryan & Esposito are at a crime scene the see Castle – only it's a lifesize effigy of him at a big book store. As they move on by Ryan says – "He really is ruggedly handsome" (mirroring Castle dialogue in season 1 that they used throughout season 2 in the opening theme) – that cracked me up!
Beckett and her team burst into an apartment on a murderer's trail, only to be surprised when they find Castle, who they hadn't seen or heard from in months, standing over the dead woman's body holding a gun. Beckett has no choice but to arrest Castle until he proves he is innocent.  This episode is great as a season opener. Next it's the case of a fake psychic who was killed by her own daughter. We also run into Beckett's first Training Officer, Mike Royce, now working as a bounty hunter and chasing their murder suspect on a warrant for missing his court appearance. While they investigate a murder of a young executive involving antique guns, a 200-year-old bullet, and New York's steampunk subculture, we are introduced to Beckett's new romantic interest, a surgeon (played by Victor Webster).
They also find that the Triple Killer has come back and struck again but while investigating & apprehending their suspect who confesses, Ryan & Castle are tied up by the real killer – a felon who they gave immunity to from jail and was helping them on the case. This shakes both Castle & Ryan up. We get some lighter moments during the murder of a male stripper dressed a cop. Castle and Beckett investigate the murder of a dockworker turned bar owner whose body is found floating in the East River, leading to the discovery of a secret that dates back to Prohibition. This leads to a special aged whiskey and Castle also buys the bar. Much hialrity & a wee bit of insecurity & jealousy occurs when Natalie Rhodes (Laura Prepon) playing Nikki Heat in the film adaptation of Heat Wave, joins Castle and Beckett in their next investigation of a high class match-maker, Stacy Collins. Natalie goes to extremes during her "character research," making herself into the exact image of Beckett, much to Castle's delight and Beckett's dismay. Ryan tries to find the best way to propose to Jenny. Next a magician's death and an older detective brings new evidence for Beckett's mother's murder, he & another cop were involved with the circumstances leading to her death, but he is killed before he can reveal all.
Castle breaks things off with his ex-wife Gina, Ryan gets engaged and Lainey & Esposito are having a romance of their own. Castle has to reluctantly lead his former close friend is a killer. Beckett & Castle have to join forces with omeland Security agent Mark Fallon (Adrian Pasdar) in a two parter episode involving a terrorist attack attempt with a deadly chemical weapon. Our duo almost run out of time when Castle, thinking that there is nothing to lose anyway, pulls all the wires and stops the bomb from detonating. One of my fav episodes is the one with the 4 Nick's Pizza – Authentic Nicks, Original Nick's, Original Authentic Nick's & Authentic Original Nick's – in the same block. When a future Olympic swimmer is found dead in the pool, Castle and Beckett travel into the world of sports, drugs, and drug dealers. Against orders, Beckett travels to Los Angeles while investigating the murder of her training officer Michael Royce, last seen being arrested in the Under the Gun episode; Castle questions Beckett's motives. Castle and Beckett are called to investigate when Amber Middleberry, a contestant in a beauty pageant, is found strangled and every suspect has a motive to commit murder.
Which brings us to the finale; Beckett's mom's murder that the duo are still investigating, reveals that there was a 3rd cop involved. An assassin, with knowledge of the details behind Beckett's mother's murder, escapes from custody during his trial leaving Castle and Beckett to track him down. Tensions mount when investigations by Ryan & Esposito reveal that the 3rd cop was Captain Montgomery, then a young cop. He soon got out of it but still is contacted by the assassin. Montgomery agrees to deliver Beckett to the assassin & his cohorts but instead spends time with his family, kisses his wife & kids goodbye and kills the assassin & his group. Before he does so, he confesses to Beckett off his early involvement during the situation but does not who ordered Mrs. Beckett's death. At Montgomery's funeral, Beckett is shot and Castle tells her that he loves her. Thus ends the season.