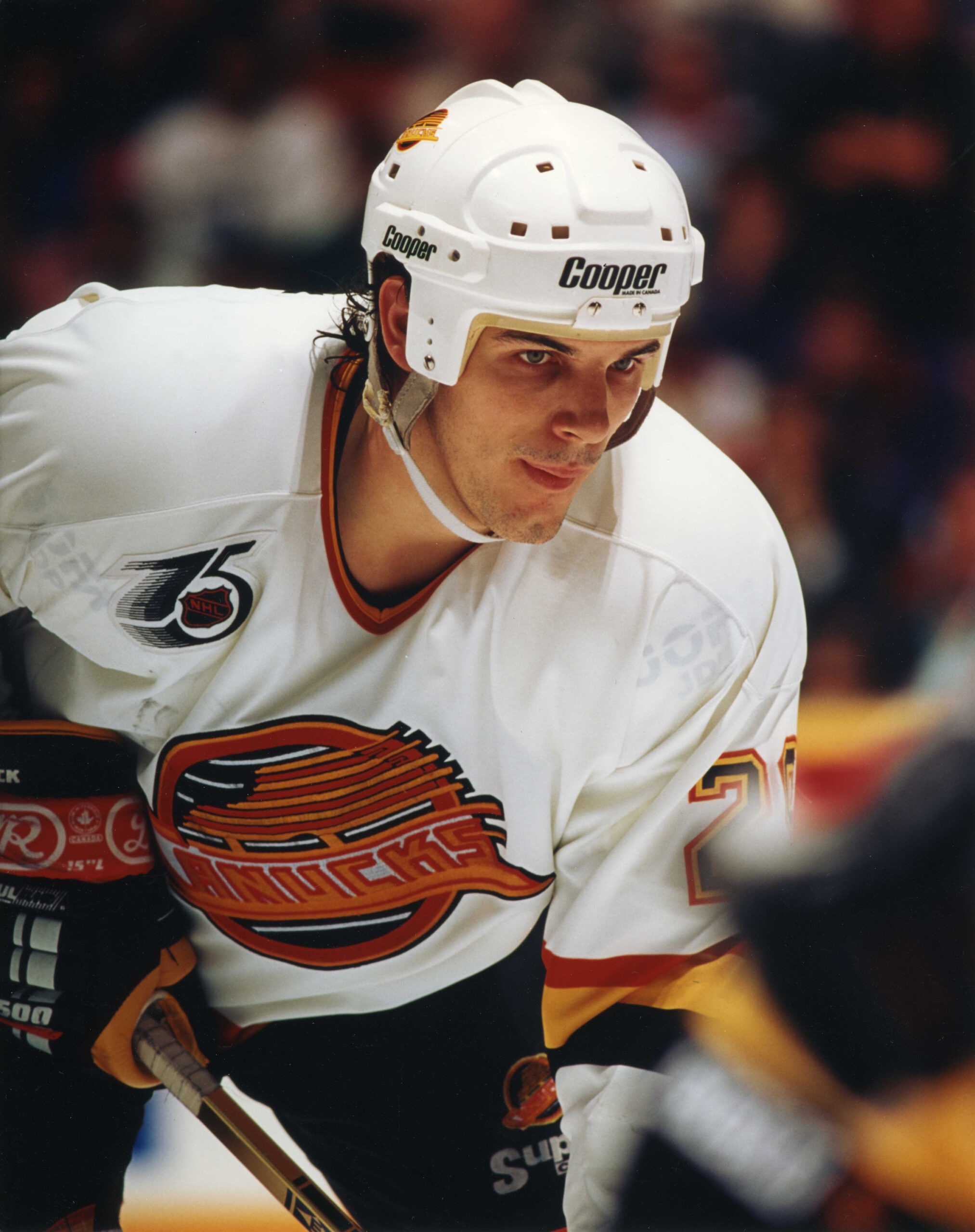 Wayne Gino Odjick, (September 7, 1970 – January 15, 2023) a Canadian professional ice hockey left winger who played twelve seasons in the National Hockey League (NHL) from 1990 to 2002 for the Vancouver Canucks, New York Islanders, Philadelphia Flyers and Montreal Canadiens has passed away at the age of 52. A fan favourite who played eight seasons with the Vancouver Canucks, he death was announced live during the broadcast of the Sunday's Canucks game against the Carolina Hurricanes.
Odjick was born in the Algonquin  reserve  of Kitigan Zibi just outside the town of  Maniwaki,  Quebec. Odjick was the fourth child and only son of six children for Joe and Giselle, after Debbie, Shelley, Judy and ahead of Janique and Dina; the Odjicks also raised at least 32 foster children. Originally named Wayne, Odjick was soon given a new name, Gino, as the family found out there was another Wayne on the reserve. He played in the 1983 Quebec International Pee-Wee Hockey Tournament with a minor ice hockey team from Maniwaki. While at the Hawkesbury Hawks, a Tier II junior team from Ontario, Odjick was given the nickname "the Algonquin Assassin," a reference to his heritage and skills as a fighter.
As a youth Odjick played two seasons with the Laval Titan of the Quebec Major Junior Hockey League, playing for the Memorial Cup both seasons. Odjick was drafted by the Vancouver Canucks in the fifth round (86th overall) in the 1990 NHL Entry Draft. He played 17 games for the Canucks' minor league affiliate, the Milwaukee Admirals of the International Hockey League before joining the Canucks full-time in 1990. His primary role with the Canucks was as an enforcer. For part of his time in Vancouver, he played on a line with the high scoring Pavel Bure. For the 1993–94 NHL season, Odjick had a career high of 16 goals and 13 assists for 29 points. He played in a total of 8 seasons for the Canucks from 1990–91 to 1997–98. During six of those seasons, he had over 200 penalty minutes and twice he had over 300.
His sixth season (1997–98) with over 200 penalty minutes was split between the Canucks (181 penalty minutes in 35 games) and New York Islanders (31 in 13 games). In the 1997–98 season, Odjick was traded to the New York Islanders and played there until 1999–2000 when he was traded to the Philadelphia Flyers. He left Philadelphia during the 2000–01 for the Montreal Canadiens. His last NHL season was with Montreal in 2001–02 as he had to sit out the next season due to concussion. In 2003, Odjick moved back to Vancouver and partnered with the Musqueam First Nation to manage the Musqueam Golf & Learning Academy. On June 26, 2014, Odjick revealed that he was diagnosed with the rare terminal disease AL amyloidosis, a rare blood disorder and whose exact cause is often unknown.
This condition had slowly been hardening his heart by coating it in abnormal protein deposits, which eventually led Odjick to suffer a heart attack. He received the Indspire Award in the sports category in 2015. Given just months to live, Odjick turned to an experimental new treatment for his illness. Odjick began recovering, and three years later, his heart was working at 60% of its capacity. Odjick died from a heart attack on January 15, 2023, at the age of 52. Odjick's parents, Joe and Marie-Antoinette, predeceased him. He had eight children and five sisters.