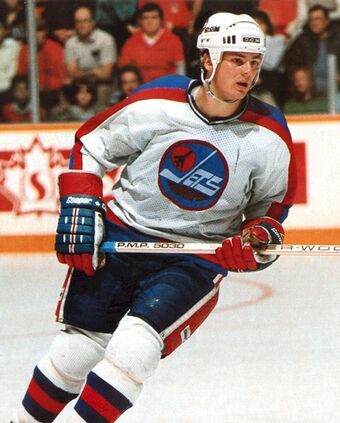 Dale Hawerchuk (April 4, 1963 – August 18, 2020) was a Canadian professional ice hockey player and coach. He was 57 years old. Hawerchuk played in the National Hockey League (NHL) for 16 seasons as a member of the Winnipeg Jets, Buffalo Sabres, St. Louis Blues and Philadelphia Flyers. He won the NHL's Calder Memorial Trophy as the league's Rookie of the Year in 1982 and was elected to the Hockey Hall of Fame in his second year of eligibility in 2001. Hawerchuk served as the head coach of the Barrie Colts of the Ontario Hockey League from 2010 to 2019.
Over a two-year run, Hawerchuk collected 286 points in 144 regular-season games, two Memorial Cups, CHL Player of the Year, Memorial Cup MVP and QMJHL playoff MVP. The Jets drafted the can't-miss Toronto native first overall in 1981. Hawerchuk infamously inked his contract at the corner of Portage and Main in downtown Winnipeg after GM John Ferguson had him delivered in a Brinks truck, marking a rebirth of the franchise in the NHL.
Hawerchuk posted 100 or more points in six of his first seven seasons in the NHL, including five straight from 1983-88. From his debut in 1981 until 1993-94, Hawerchuk was second league-wide in points (1,298 ) only to Gretzky (2,157), topping Lemieux (1,211), Paul Coffey (1,246) and Mark Messier (1,220). Hawerchuk was the Jets' captain for six seasons, then wore the 'A' in Buffalo for the following five. Hawerchuk is widely considered one of the best players ever to not win a Stanley Cup. The closest he got – the only time his team ever advanced past the second round – was the 1997 Stanley Cup Final with the Philadelphia Flyers, the last games he played before retiring at the age of 34 due to a degenerative hip problem.
His Jets just never had enough to sneak past the Smythe Division stalwarts in Edmonton and Calgary. On the international stage, Hawerchuk wrote a different story. Tasked with coaching Canada in the 1987 Canada Cup, Keenan learned his lesson from betting against Hawerchuk in the 1980 Memorial Cup. He was named head coach of the OHL's Barrie Colts in 2010, where he posted five 40-plus win campaigns over nine seasons. In 2019, Hawerchuk announced he would be taking a leave of absence from the Colts for health reasons, which was later revealed to be stomach cancer. Hawerchuk completed a course of chemotherapy in April 2020, but died on August 18, 2020. Hawerchuk is survived by his wife, Crystal, and children Eric, Ben and Alexis.