The Bangles are an American pop rock band formed in Los Angeles, California, in 1981. The band recorded several singles that reached the U.S. top 10 during the 1980s, including "Manic Monday" (1986), "Walk Like an Egyptian" (1986), "Hazy Shade of Winter" (1987), "In Your Room" (1988), and "Eternal Flame" (1989). The band's classic lineup consisted of founding members Susanna Hoffs (guitar and vocals), Vicki Peterson (guitar and vocals), Debbi Peterson (drums and vocals), with Michael Steele (bass and vocals). As of June 2018, the band consisted of sisters Vicki and Debbi Peterson, Hoffs, and founding bassist Annette Zilinskas.
The Chicks (previously known as Dixie Chicks) are an American country music band from Dallas, Texas. Since 1995, the band has consisted of Natalie Maines (lead vocals, guitar) and sisters Martie Maguire (vocals, fiddle, mandolin, guitar) and Emily Strayer (vocals, guitar, banjo, Dobro). Maguire and Strayer, both née Erwin, founded the band in 1989 in Dallas, Texas, with bassist Laura Lynch and vocalist and guitarist Robin Lynn Macy. They performed bluegrass and country music, busking and touring the bluegrass festival circuits and small venues for six years without attracting a major label. In 1992, Macy left and Lynch became the lead vocalist.
Upon signing with Monument Records Nashville in 1997 and replacing Lynch with Maines, the Chicks achieved success with their albums Wide Open Spaces (1998) and Fly (1999). After Monument closed its Nashville branch, the Chicks moved to Columbia Records for Home (2002). These albums achieved multi-platinum sales in the United States, Canada, and Australia, along with several charting singles on the American Billboard Hot Country Songs charts. "There's Your Trouble", "Wide Open Spaces", "You Were Mine", "Cowboy Take Me Away", "Without You", and a cover of Bruce Robison's "Travelin' Soldier" reached number one. The Chicks also reached number one on the Adult Contemporary chart with their 2002 cover of Fleetwood Mac's "Landslide".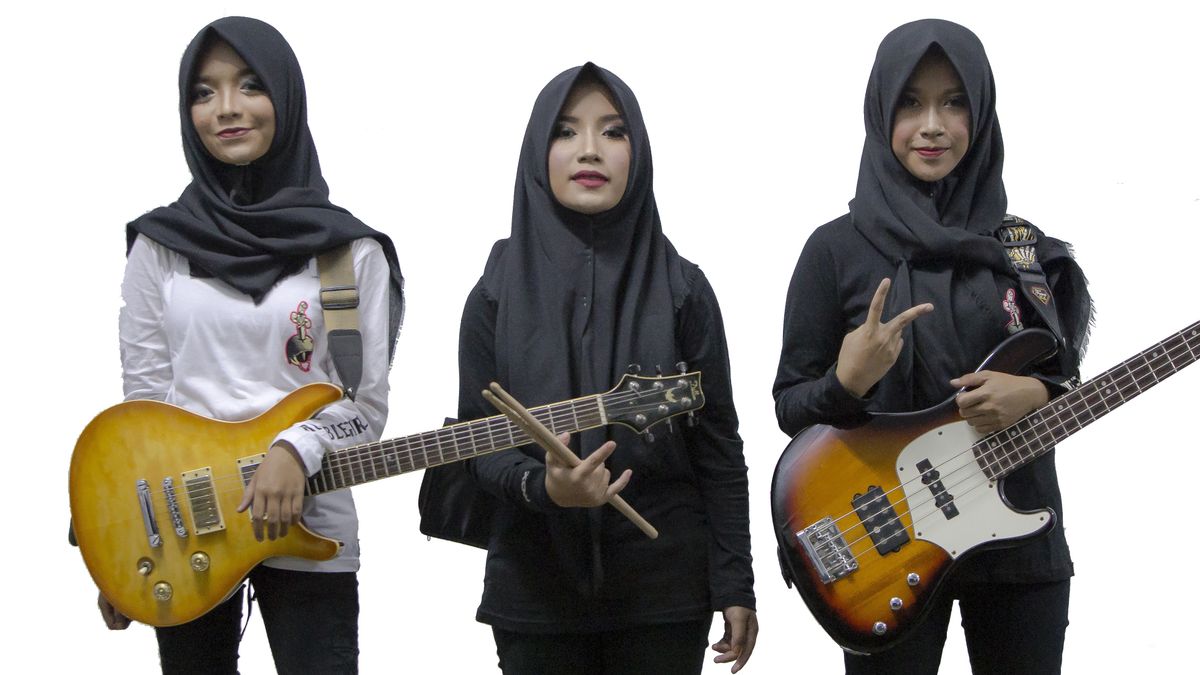 Young, Indonesian, hijab-wearing, female metal trio Voice Of Baceprot (VOB) have been covering the members' favourite metal songs since they learned to play their instruments. Their prowess at playing these covers got them attention from fans and media worldwide and enabled them to develop to the point where they could, as a band, create original songs. Consisting of Marsya (vocals and guitar), Widi (bass), and Sitti (drums), the trio first met when they were still junior high school students in their hometown of Singajaya, a small village two hours' drive away from the city of Garut, West Java. The word "baceprot" from their band name comes from the Sundanese language meaning "noisy". It was chosen to represent the type of music that they play.
Since their formation, VOB have become a point of discussion for a host of renowned global media, including The New York Times, NPR, BBC, DW and The Guardian, featuring them in the pages of their online publication. VOB were recently named by heavy metal and rock magazine Metal Hammer as "the Metal Band the World Needs Right Now".
Dala is a Canadian acoustic-folk two-piece musical group, made up by Sheila Carabine and Amanda Walther, both of Scarborough, Ontario. Sheila Carabine and Amanda Walther first met at Mary Ward Catholic Secondary School, at a high school band practice. Quickly afterwards, Carabine and Walther's friendship blossomed and they formed Dala in the summer of 2002. Their "innate understanding of music" and "vocal range" helped propel them towards signing a five-year artist development deal with Big Bold Sun Music on December 12, 2003, and on April 3, 2005, Dala released their first album, This Moment Is a Flash.
Juno nominees and winners of the 2010 Canadian Folk Music Award for Vocal Group of the Year, Amanda and Sheila write and sing in harmony best described as angelic. These two best friends met in their high school music class in 2002; they have since released five albums and toured extensively across North America. Drawing upon influences like The Beatles, Joni Mitchell, Neil Young and Bob Dylan, Dala write songs that are both catchy and insightful. Amanda's ethereal soprano voice blends seamlessly with Sheila's velvety alto, creating the lush harmonies that have become their trademark.