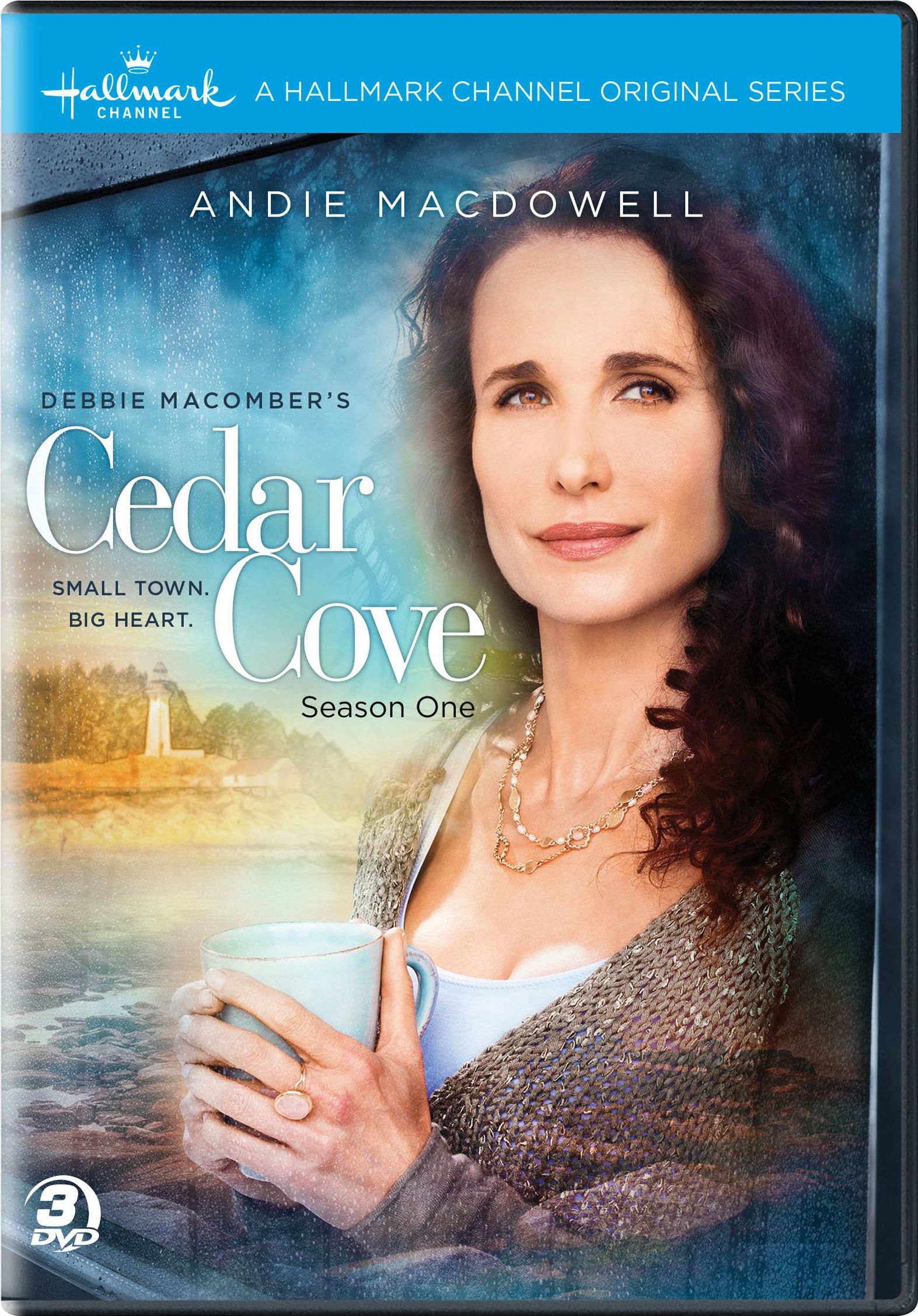 While Hallmark is not a channel/network I would normally look for selecting show that I can watch a couple of exceptions have known to happen. One such is the Hallmark original and new (it's in it's second season at the moment) show for 2013 Cedar Cove based on Debbie Macomber's novel series of the same name. The Canadian produced show for Hallmark (that and the Canadian majority cast; hence it is usually called a Canadian series) is shot in the Vancouver area and set in the idyllic & picturesque town of Cedar Cove in Washington, USA. The show focuses on judge Olivia Lockheart played by award winning actress Andie MacDowell and her life including her love interest, best friend, daughter and some of the other towns folk.
Olivia is the town's only judge and a divorced mother who lost her son Jordan when he drowned at the age of 13. She & her physician husband Stan Lockheart grew apart and he found solace in another woman and married her after the divorce. Olivia's love interest is played by recovering alcoholic & journalist Jack Griffith (Dylan Neal), himself a divorcee who lost his job at a newspaper in Philadelphia and moved to take over as editor & sole jounalist of Cedar Cove's little weekly paper. Teryl Rothery plays Olivia's best friend since childhood, Grace, who is a recently divorced librarian and starting off life on her own and her younger daughter Maryellen (Elyse Levesque) who runs the local art gallery comes home to keep her company. Justine (Sarah Symth) is Olivia's daughter, the twin of Jordan, who is a talented artist and jewellery maker working part time at Moon's cafe waiting tables when she is given a full time job at the gallery. Her life is turned upside down when she breaks off her engagement with her corrupt real estate developer fiance Warren Saget (Brennan Elliot) after some of his dealings come into the light and when he almost demolishes a cherished landmark lighthouse.
When Justine's childhood love Seth (Corey Sevier) comes back into town she and he reignite their romance and move in together despite his needing to be away for days at a stretch due to his fishing job. Towards the end of the season Seth sells his boat and decides to buy and start up a new restaurant and Justine pitches in – only they find out that Warren own the property. He eventually does agree to sell to them but it gets partially burned by an unknown arsonist so the town folk pitch in to clean it up. Also in the main cast are Bruce Boxleitner as Bob Beldon, owner of the local bed & breakfast Thyme and Tide & Barbara Niven as Peggy Beldon, Bob's wife. Bob also acts as Jack's sponsor to sobriety and often render friendly advice to his new friend. Timothy Webber as Moon, the aged hippie proprietor of Moon's, a cafe/knick-knack store where Justine once waited tables. Sebastian Spence as Cliff Harting, a rancher. He was estranged from his father, once famous country singer Tom Harting, at the time of Tom's death. Soon the shy cowboy sparks an interest in romance in Grace, even though she gets sidetracked when her first crush, Will Jeffers, Olivia's philandering brother played by Cameron Bancroft, comes for a visit and though married seems to like Grace.
Charlie Carrick plays John Bowman, an artist and chef, who changed his name and is the mysterious new person in Cedar Cove who catches Maryellen's eye. It turns out that he used to be in prison for a drug charge and loses his job at the restaurant when it is found out. Maryellen's investigation reveals that John served jail time for a crime committed by his brother, and who is Maryellen's love interest, and is estranged from his family and old friends who didn't believe his story. John helps the FBI to catch a few drug smugglers which earns his reputation and his relief. Then we have recurring roles for Tom Stevens as Eric Griffith, Jack's irresponsible son who blames much of that irresponsibility on the fact that he had no male role model growing up Hayley Sales as Shelly, Eric's folk singing girlfriend. When Shelly's pregnancy causes complications for her and leads to hospitalization, Eric starts to become more responsible even though he is hot headed and prone to lashing out. And finally we have Paula Shaw as Charlotte Jeffers, Olivia's headstrong mother who arranges events around town and not so subtly pushes her daughter towards Jack.
So, I know, it's a show about a quaint little town where everyone knows everyone and life is at a much slower pace here. It's all about second chances, romances and all that. But it's never really corny or sugary syrupy and therefore is very watchable, especially with a good cast of seasoned actors and newer up & comers – although MacDowell's acting seems a little off and that laugh – ugh! Overall it's not a bad show and can be entertaining.