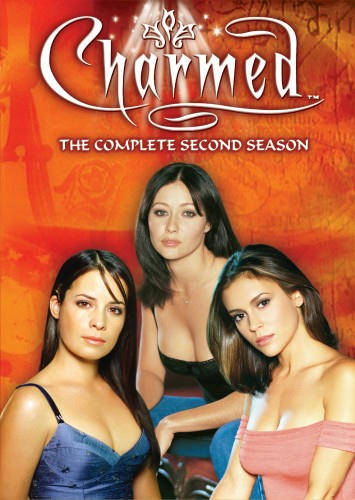 Well it has taken me a long time, a lot longer than usual to complete watching season 1 and about the same time to watch season 2. This was a series I religiously watched for a few seasons when it had it's original run on Indian cable back in 2002 till 2006. Although the series actually completed airing in 2006 (it's 8 season) and didn't start airing season 1 in India by 2001, they did show the seasons in quick succession so that we saw the series finale only a month or two after the show ended in the US. As previously stated this is more of a television version of a chick filck with supernatural elements but I was a fan when it first showed. Perhaps watching more serious & quality shows since then had made me chuckle at the acting & storylines of Charmed.
But even though I do not consider myself to be a real fan now when watching the show again, I still do find some of it funny & (pun coming up) charming. Also from a few Youtube users I get the feeling that most of their hatred & ridiculing of the tv show is aimed at Phoebe Halliwell – the youngest sister until the half-sister Paige shows up – aka the actress Alyssa Milano. And even though some of the Youtube reviewers have not explicitly said so, from the others I can gauge the reason why they hate her. She has this tendency to do a baby talk especially when she is in the presence of an older relative / family friend or Piper (Holly Marie Combs). It's not an attractive quality when a grown woman does that. In 1998 when the show started, Milano was 25.
Plus the cheese & cornyness of the series – the slow acoustic guitar background music whenever Piper & Leo meet and talk, all that tension about true love not being able to be together. Plus Shannen Doherty character changes a bit in season 2 – while she was personal loans quick more serious and a no-nonsense eldest sister when the season started, she also becomes a lot more playful and a bit ditzy as the season progresses. Also, both Doherty & Milano compete for more revealing outfits in season 2 – with plenty of cleavage and a lot of bouncing around going on
How can I take this show seriously when I'm wondering which itty bity blouse of these two I should stare at on the screen? And if you have seen one two many bimbos how about the male version –  new neighbours Dan Gordon and his niece Jenny move in, Dan becomes Piper's new love interest and man is that guy a dumbo. The actor has nothing much to do except be the hurdle that Leo must overcome to re-start his love life with Piper. Piper goes out with Dan but we all know that she is pining for Leo – there's that guitar music whenever the two meet – and she must decide to let her heart have it's choice.
Piper also opens P3, a nightclub that she somehow manages to single-handedly establish into a happening place with top musical acts playing on regular nights. BTW, a lot of the music on Charmed reminded me how much bad music the 90s had (Dishwalla indeed) but here is the cool stuff – The Cranberries appear on the show! Phoebe decides to return to school to complete a degree in Psychology and Prue leaves her job mid-season to follow her dream of becoming a photographer. She also has a brief relationship with Jack Sheridan whom she meets at Bucklands before leaving. This season also sees the sisters' powers growing as they begin to gain more control over their powers. Phoebe learns to command premonitions, Piper selectively freezes objects, and Prue gains the power of astral projection. They also begin to learn how to write and cast their own spells and to create their own vanquishing potions. And bounce around more efficiently!
I've already started season 3 and I hope it gets better. During the show's run on Indian tv, I missed most of the first 3 seasons but watched the rest a lot more.