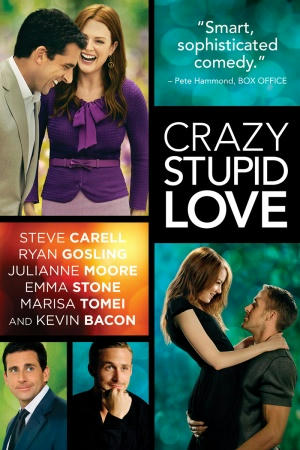 The first time I saw Steve Carrell in a movie was the 2003 super hit comedy Bruce Almighty, which I probably saw later that year. Since then I've seen him in a few more movies, enough to label me a fan if not a big fan of his. But yes he does good work and brings out the genuine laughs. As for Ryan Gosling, I've been following his work since he first made a name for himself in The Believer (2001) and over the years have admired the serious actor. This is the first time I've seen him in a comedy and he does well. Crazy Stupid Love sees the two team up together for a romantic comedy directed by Glenn Ficarra and John Requa & written by Dan Fogelman.  Julianne Moore, Emma Stone, Marisa Tomei, Analeigh Tipton, and Kevin Bacon co-star in this 2011 film.
Well Steve plays Cal Weaver who is distraught when his wife Emily (Moore) admits to being unhappy in their marriage and having cheated on him with her co-worker David (Kevin Bacon) and now wants a divorce. Cal moves out to his own apartment, leaving his school age kids with Emily and is basically in a stupor. He frequents a bar on a nightly basis where he tends to speak loudly about his situation and is noticed by Jacob Palmer (Gosling). Jacob, a successful womanizer who bed women that he meets at the bar takes Cal under his wing and teaches him the tricks of the trade an guides him to dress & look better. As they begin a friendship, Cal hits on Kate (Marisa Tomei), a woman that he meets and sleeps with her.
Although Cal slowly gains more confidence and finds success with more women, he still misses his wife. Unfortunately for him, he finds out that Kate is his son's teacher while both he & Emily are at the school for a PTA meeting. Meanwhile Hannah (Stone) who had met Jacob and is the one woman who he couldn't win over, is upset with her dull, business minded boyfriend (Josh Groban) and meets up with Jacob at the bar later. She pulls Jacob for a kiss and the two go to his home to have sex, but end up staying awake all night talking about themselves. Jacob starts a relationship with Hannah, and ends up distancing himself from Cal. Cal, not understanding why Jacob is avoiding his phone calls, slips back into a lonely and depressive state. Also tangled in this is Cal & Emily's son Robbie who has a big crush on his neighbour & babysitter (mostly for his kid sister Molly) Jessica who has a crush on Cal and thinks he is a decent & loving man and doesn't deserve to be dumped by his wife.
Meanwhile Jacob calls Cal, apologizes for not being there for him in the last few days and tells him about the girl he has fallen in love with. Now it is Jacob who needs advise from Cal on how to be in a loving relationship. Cal decides that he wants to fight for Emily and tries to win back her affection and creates a mini-golf course in the backyard of their house with his kids. At a lunch party at their house, while Emily, Cal and their kids gather they see Hannah come into the house with Jacob – turns out Hannah is the eldest daughter of Cal & Emily. They had her when they were quite young and it was why they got married so quickly. Cal gets upset with Hannah and says that she cannot trust a womanizer like Jacob. As they argue David shows up and Jacob beats him up for stealing Emily away from his friend Cal. Add to this a further trouble – Jessica's parents find naked photos of her in an envelope marked for Cal and think that she was seduced by the older man. So her father comes rushing in to beat Cal until Jessica confesses that Cal had no idea about her crush.
Everything is upset and Cal goes back to being a depressed loner in the bar and refuses Jacob's attempts to talk. Robbie is also upset to find that his love Jessica has a crush on his father. At his 8th grade graduation Robbie gets on stage to deliver the speech – he touches on love and says that he no longer believes in true love and soul-mates. He is stopped by Cal says begins to tell the crowd about his courtship with Emily and says that he will never give up on Emily. With renewed faith, Robbie reaffirms his love for Jessica to audience applause. After the ceremony, Cal finally approves of Jacob and Hannah's relationship. Jessica, flattered by Robbie's declaration of love, gives him an envelope containing the nude photos of herself to "get him through high school". Cal and Emily have a laugh talking about the events that have transpired the past year, as Robbie looks on at them and grins.
Funny movie with some laughs and good performances overall. Best line of dialogue in the movie is when Jacob takes off his shirt to reveal his buffed & muscle toned body and Hannah, who is slightly drunk, is astonished and says "That is photoshopped"! I laughed out loud at that one. Watch it, it's worth your time. 8 outta 10!