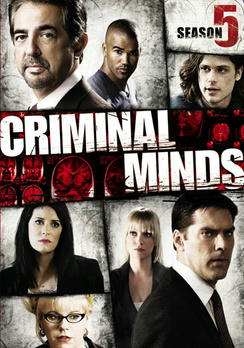 We left season 4 with the Reaper shooting Hotch and leaving him for dead. Prentiss realizes that Hotch is missing and the team eventually discover that the Reaper has attacked Hotch and also taken personal information in regards to Haley and Jack's whereabouts, forcing the two of them to be put into government protection for their own safety. Meanwhile an unsub is targeting an a doctor & his son; while trying to save the doctor from being shot Reid get's shot in the leg. Hotcher recovers but is changed, seemingly more disturbed. The BAU goes to Kentucky to investigate what caused a disturbed man to suffer a psychotic breakdown at a pharmacy and then murder several customers before fleeing the scene.
Next they go to Rossi's hometown on Long Island where criminals released from justice are being killed by a professional hitman who is being paid by a terminally ill judge to carry out the brutal slayings and then a group of suspects with a pack mentality who are randomly selecting their victims in the nation's capital and then murdering them just for the thrill of the kill. And then it's New Mexico to investigate the case of a serial killer who's kidnapping and impregnating young women before murdering them mere minutes after they've given birth. A change happens at the BAU when Hotch temporarily steps down as the leader of the BAU and suggests section chief Erin Strauss that Morgan should take charge for a while. The BAU goes to Oklahoma where a man removes the eyes of his murder victims and keeps them as souvenirs.
Morgan's first case as leader is to take the team to Los Angeles to investigate a series of killings that lead to a Goth rock star (played by Gavin Rossdale) who appears to have become lost in the creepy alter ego he portrays when he is on stage. During an investigation of a series of murders, the BAU is forced to seek advice from one of the most atrocious killers from the team's past, nicknamed "The Fox", from the episode 7 of the first season, The Fox, who delivers a portentous message to Agent Hotchner. The Reaper has traced the house where Hayley & her son Jack are hiding under new names. Hotcher rushes to save her but he is too late – Foyet killed her. Jack hides as instructed by his father and Foyet & Hotch fight each other, which ends in Foyet's death. Hotch brings Jack back to live with him after Hayley's funeral and while Agent Hotchner takes a leave of absence to contemplate his future with the BAU, the team is called to investigate a home invasion case in Nashville without him.
Prentiss is hurt when a truck hits a car carrying her, another agent and a convict. The convict's partner was driving the car and the two escape. The team must profile the criminal's past in order to catch him again. Hotcher returns and takes over the leadership of the team again just in time to go to Atlantic City ect with an unusual personal obsession: abducting certain types of women from various places around the city and then transforming them into real-life dolls. The BAU is called to assist local authorities in rural  Wyoming  when teens are found dead from what appears to be suicides seemingly linked to the Internet. Then it's a con artist in South Florida (Victor Webster) who is descending into mental illness and this in turn is prompting him to kill people involved in his scams. The con artist met his downfall because he was experiencing a major identity crisis. Then it's back to Virginia where a child abductor couple  may have been harboring children for more than eight years. The BAU  then profiles a highway serial killer in Edgewood, New Mexico who's abducting women and holding them hostage as he seeks to find a potential mother figure for his daughter, Jody.
In San Francisco to investigate the murders of several homeless men and pairs of fathers and daughters and teams up with a separate group of BAU operatives (the spin off Criminal Minds : Suspect Behaviour was launched post this episode) who are working another case they think is connected. Then in Texas to track a serial killer targeting illegal immigrants attempting to make safe passage into the U.S. & to Tallahassee to lead a case on a serial killer who commits suicide but leaves behind clues to the whereabouts of his last victim on the tattoos of his body. Garcia joins the team to go to a small town in Alaska where they begin investigating murders involving several members who had plans of leaving the town and then Boise, Idaho to profile a serial killer who uses the Internet as his hunting ground and posts the videos of his killings live on the Internet for his fans, bringing a whole new meaning to the term "social networking".
The season ends in LA wherea serial killer in Los Angeles who preys on his victims in the dark, (LA had been going through a power crisis that summer with hours of outages) killing entire families except for one left alive to remember. The episode ends in a cliffhanger when Billy Flynn (Tim Curry), the Prince of Darkness shoots and kills Detective Matt Spicer, before kidnapping Spicer's daughter, Ellie and fleeing the scene, leaving both Morgan and Spicer behind. Morgan then passes out seconds later. Good solid season, with some tense touching moments. The producers managed to shake up the scene with Hayley's death and Hotch going through his recovery and Reid's injury and Morgan temporarily taking charge of the team.