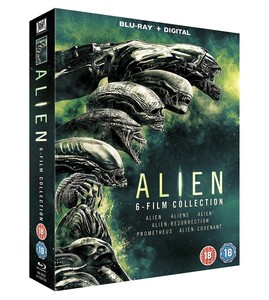 Ok let me just say this out right – in India, when it comes to movies on Dvd & Bluray everyone, barring the really rich, goes to torrents or gets bootlegs. Though a lot of us have also turned to proper legal online streaming options like Amazon Prime, Sony LIV or Netflix, the vast majority of us illegally download our movies. Why is it so?
The price, which is ridiculous. Case in point a) this 6 film collection of the 4 Alien movies plus Prometheus & Alien : Covenant will cost me Rs. 3,399 in dvd format or Rs. 4,999 which are huge sums to spend on movies. Yes compared to direct currency conversions they may be on par or slightly below even perhaps but the differences in what a person has to spend from their salary for this versus what a person here has to spend. That just isn't the same and it's a huge difference in what it means to spend that kind of money for an Indian living and working in India.
I have decided to spend some money on getting dvds but for the most part creating a good sized collection is going to be a very costly affair for someone like me. And I earn a pretty good salary here. This is why I feel that they need to really look at the dvd & bluray prices in India for films from Hollywood, Canada & the UK.