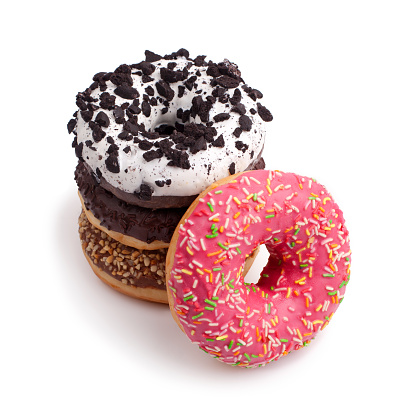 1. Over 10 billion doughnuts are made in the U.S. each year.
The American doughnut industry is huge, with numerous fast food chains dedicated to their production. Canada, meanwhile, produces fewer doughnuts (approximately 1 billion per year), but with its lower population, actually has the most doughnut shops per capita of any country in the world.
2. There are 10 people living in America with the last name "Doughnut" or "Donut."
At least that was the total in 2011. It's unclear whether "Doughnut" was their given last name, or whether they changed it out of passion for the pastry. Meanwhile, 13 people have the first name "Donut," making it the 245,396th most popular name in the United States.
3. Voodoo Doughnut used to sell "medicinal" doughnuts, which were coated with Nyquil or Pepto Bismol.
Portland, Oregon-based Voodoo Doughnut is famous for its wild doughnut flavors. For a while, the doughnut shop even offered NyQuil- and Pepto Bismol-coated doughnuts (the latter were dipped in Pepto Bismol, sprinkled with Tums, and marketed to customers who'd had too much to drink and wanted a snack that was easy on the stomach). The doughnut shop was eventually forced to retire its medicinal flavors after the FDA stepped in.
4. Boston has the most doughnut shops per person.
Bostonians really love their doughnuts: The city has one doughnut shop for every 2480 people according to AdWeek.
5. The French used to call their doughnuts "nun's farts."
The airy fried dough fritters—slightly different from the American circular doughnut—are called pets de nonne in French, which translates to "nun's farts."
6. Renée Zellweger ate 20 doughnuts a day to gain weight for the Bridget Jonessequel.
Renée Zellweger needed to gain weight fast to reprise her role as the eponymous heroine in 2004's Bridget Jones: The Edge of Reason. The actress claimed to have eaten "a Big Mac and chips, potatoes swimming in butter, pizza, milkshakes, and 20 doughnuts" every day to hit her weight goal in time for shooting.
7. Doughnuts were served to soldiers during WWI.
During World War I, Salvation Army workers would bring soldiers doughnuts and coffee in the trenches of France to cheer them up and remind them of home.
8. One California doughnut shop became a movie star in the 1980s—and still is.
Featuring a massive 32-foot doughnut sculpture atop its low, flat roof, Randy's Donuts is one of the most iconic Hollywood doughnut shops. The store, which opened in the 1950s as part of the now-defunct Big Donut Drive-In chain, has appeared in numerous movies, including Earth Girls are Easy (1988), Get Shorty (1995), The Golden Child (1986), Crocodile Dundee (1986), and Iron Man 2 (2010).