And so the group stages of Euro 2012 concludes. Did not expect some of these results but in the end except for Holland not being there and Greece making it, it looks like a predicted quater-final lineup.Let's look at the last round of matches in the group stages shall we?
Group A : It ended with a heart break for the Russians who started so well and a delight for the underdog Greek side. The Czech Republic beat co-hosts Poland by a solitary goal enough to see them top the group and go through to the quarters after a bad start to the tournament. But in the end they did what was needed. You can't say that about the Russians who's over-confidence led them to sit back against Greece on the 16th and they lost out of a chance to progress through. Greece too won by a solitary goal and they join the Czechs in the knck-out stages and will face favourites Germany.
Group B : Holland were not yet out of the running but still needed two things to happen – they had to beat the Portuguese side by 2 goals or more and Germany had to beat Denmark. Well the Germans closed out their group stage matches in style winning all 3 matches by beating the Danes 2-1. An Holland started off well by scoring in the 11th minute and looking strong. However their defense and midfield let them down as a Portuguese side went rampant led by Ronaldo who scored a brace and gave Portugal a 2-1 win and second place in the group with 6 points. Holland go back home with just 2 goals scored and 0 points and now have to go back to the drawing board.
Group C : Was there any doubt that Italy & Spain would not go through to the next round? Spain however did have a nervous match with Croatia winning on a solitary goal and relying on a late substitute to get the 1-0 win for them. Despite their nervy performance one would expect Spain to pick up their game for the knockout stages. Same for Italy who had a comfortable 2-0 win against a spirited Irish side who in the end were lacking in quality. I expect Spain to make it to the finals probably facing off against Germany, as they haven't looked like they have reached their peak. Spain looks like they still have a gear or two left.
Group D : Finally the matches from last night, pulled off a surprise in the form of already disqualified Sweden handing France a 2-0 win. The Swedes will therefor go out with their heads held high but what does that do to the confidence of the French? They looked abysmal last night and will need to pick things up. Especially since their quaterfinal opponent is Spain! England look to have things in place by managing a 1-0 win against Ukraine and topping group one. That should give the English enough confidence against an Italian side who are yet to peak.
So hear is a look at what awaits us fans in the quaterfinals: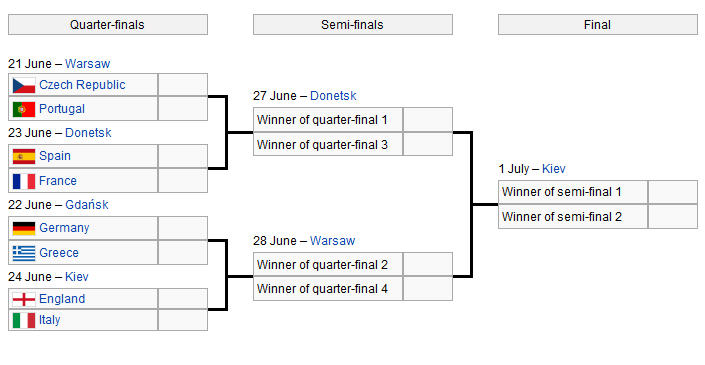 Looks interesting. My predictions will be a a semifinal lineup with Germany vs Italy & Spain vs Portugal. Looks exciting.