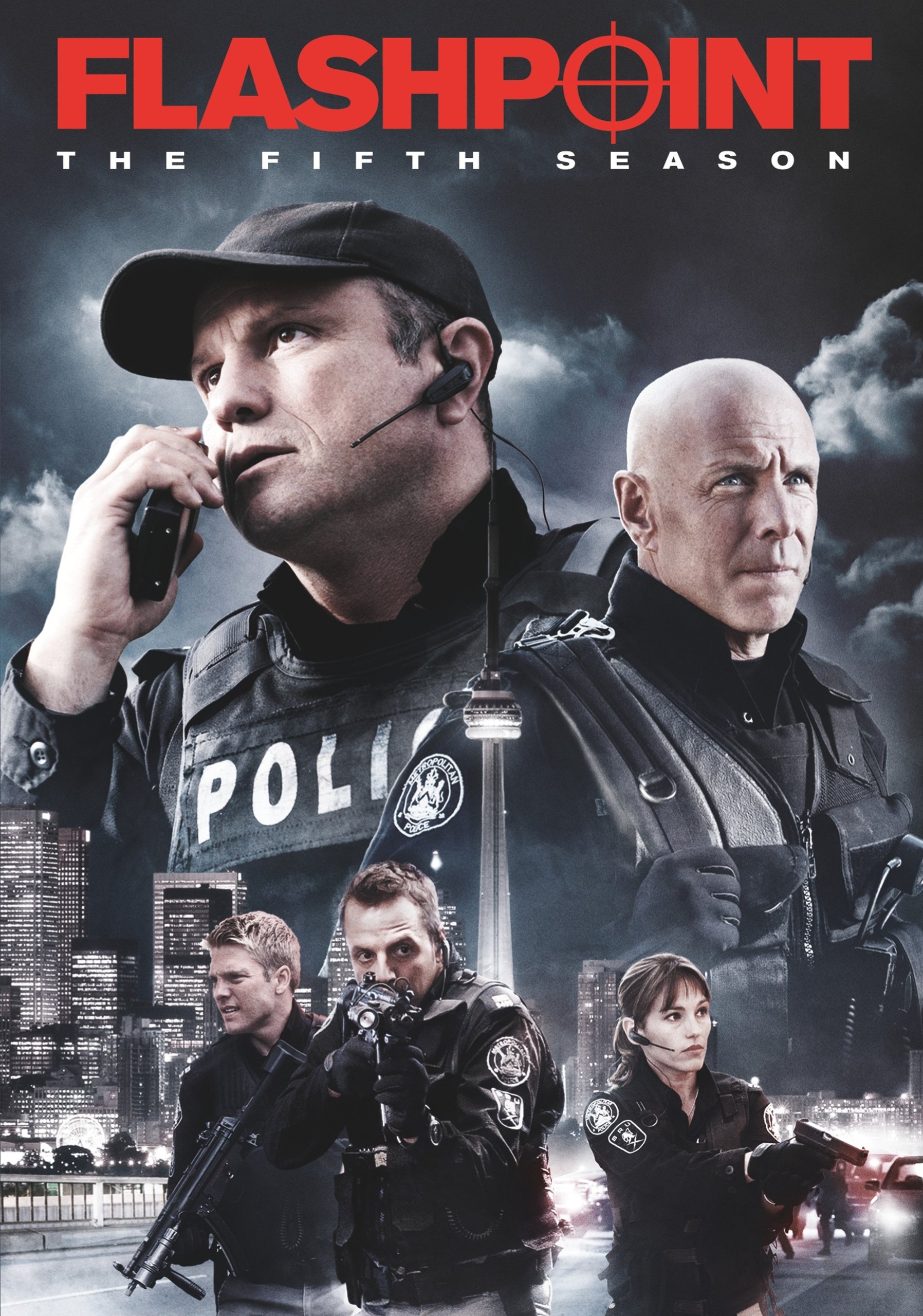 One is always sad when a good show winds down. When a really good or great show like Flashpoint winds down after just 5 seasons, it feels like an injustice, a tragedy. However we are grateful that the show's creators meant to wind it down and that it wasn't due to ratings or anything external. The show's creators husband & wife team Mark Ellis and Stephanie Morgenstern had announced the decision well before season 5 started airing. So there's that.
It's also ironic that the show's best & most emotionally tragic episode is the season opener. Team One tears through the city looking for James Mitchell (Ty Olsson), a man hunting his ex-wife Michelle (Lisa Houle). The end result has Ed taking a shot he wasn't prepared for – he has to kill the daughter who approaches her abusive father with a gun in her hand. Ed will struggle throughout this season as this decision, although correct in the eyes of the law, plagues him. The rest of the team also struggle with this. Next Team One is called to an office building where Dr. Jason Alston has been taken at gunpoint. As the team clears the building, the gunman gets the drop on Sam, forcing him and Jason into a van and revealing a critically injured child. Sam helps Jason stabilize the child's condition, and discovers a history between Jason and the gunman – just as armed men close in, gunning for Brendan and trapping Sam and Jason in the crossfire. Rafik 'Raf' Rousseau leaves the team as he applies for a transfer unable to come to terms with some of the cases he has seen. As Leah Kerns (Raf's replacement) returns to the team, Team One responds to a bank robbery committed by the Business Card Bandit. As they discover, two teenage girls were involved in the robbery and the gang they belong to has an abusive leader who picks up homeless kids to carry out these heists. When Sarah decides to cut him from their lives, Jules and the team race to stop her before she becomes his next victim.
The team chase after a reclusive and handicapped hacker (Kris Lemche) who hacked into their computers, displaying a theft of an eighteen-wheeler full of volatile chemicals. Apparently, the hacker has learned that his student's boyfriend is part of a hijacking ring, but he doesn't get caught as intended. Now the boyfriend's boss, who hides his criminal operation behind a legitimate front, holds his girlfriend hostage, demanding he find the leak. Team One responds to the abduction of Peggi Walsh (Sarah Manninen), a young nurse taken by a man (Chad Donella) at knifepoint. With time running out, the team finds the killer's brother (Andrew Francis) and must convince him to unlock the secret of his tragic past to save Peggi's life. Also, Ed is required to hear from the mother of the teenager that died in "Broken Peace" to hear her take on the situation. A car bombing goes off at a children's party, killing a married couple. As Team One discovers, all the fathers are members of the Brigadiers biker gang, the leader having been killed in the explosion. At first it seemed like an attack from a rival gang, but as they later find out, it is in fact a coup being pulled off by a few of its members. Worse yet, an undercover informant, who was the best friend of the leading detective's deceased son, is exposed and Team One is in a race against time to prevent the coup and save his life. A young man named Elliot (Sebastian Pigott) with a brilliant memory is abducted and forced to remember the specifications for a new "smart gun" in a high tech research facility, which his kidnappers intend to sell on the black market. Things get worse when Ed is taken hostage. Thus, he works with Elliot to find a way to disable the smart gun before their kidnappers flee the country and kill him.
Jules and Sam receive some personal news, she's pregnant, but don't know whether to share it with the team. While the SRU is called in to stop some ex-soldiers robbing an armored truck with millions of dollars, they learn more about the background of the group leader who tries to maintain a place for ex-army men and women with nowhere to go. When Dean and Clark go on a ride-along with Team One, a shootout breaks out at a drug den. As the Team learns, a trio of undercover cops are trying to take down the neighbourhood drug gang that inducts teenagers. Now, the gang leader is out for retaliation, starting with one of the cops' wives, whom the Team fails to save. Meanwhile, Dean and Clark spot one of the cops fleeing the scene and dropping a bag full of guns in a garbage bag. They go to investigate, only to be confronted by the leading sergeant of the undercover unit, who has decided to forgo following the law to take down the gang leader after he was acquitted. A Senator is abducted in the midst of a bomb hoax. Team One soon learns that the Senator is planning on developing vast farmland into an airport and his two kidnappers are farmers who live on that land. One farmer is seeking to keep the land his deaf nephew feels comfortable with but his cohort seeks to ransom the Senator, having learned of bribes set by farm owners to keep their land. The situation becomes even more tense when the nephew returns, mistakenly assuming that the Team shot his uncle. Meanwhile, Dean receives his acceptance into university but later tells his father that he wants to be a cop. In flashback sequences, Ed tells his psychologist how Team One races to catch a disturbed and armed man on a ferry. This man, Harold Beamer (A. J. Buckley), had kidnapped his neighbour's baby girl, convinced it is his own daughter as a baby once again. At the same time, Ed is still wracked with guilt over the events of "Broken Peace" and feels that he's not fit to be team leader.
And now the series finale – an explosive package planted at the 911 call centre is just the beginning of the most challenging call of Team One's career. A series of bombs in public buildings tears the city apart with terror as the team members juggle high-risk rescues, multiple defusions, and fear for their own loved ones. Team One singles out a suspect, Anson Holt, a former psychiatrist and sadist. The SRU manages to track him down, only to find him strapped into a bomb vest as bait for the police. Team Three leader Donna Sabine and one of her colleagues lose their lives to the deadly trap as the search for the true suspect goes on. The members of Team One have no time to mourn the loss of their friend and colleague as they learn that the perpetrator is Marcus Faber, one of Anson Holt's students and a victim of his sadistic experiments. Team One races across Toronto to defuse all of the remaining bombs. As Greg Parker attempts to disable the last bomb in the catwalks of Fletcher Stadium, Faber catches up and engages him in a firefight. Parker succeeds but is gravely injured, while Ed Lane saves his life by fatally shooting Faber. One year later, Greg retires to teach at the police academy, Spike and Winnie are officially a couple, Sam and Jules have their daughter Sadie, Sam is the new leader of Team Three and Ed is promoted to Sergeant.
A great show, great cast, great storylines and episodes. I will miss this show but – there's always playing the episodes again on dvd!