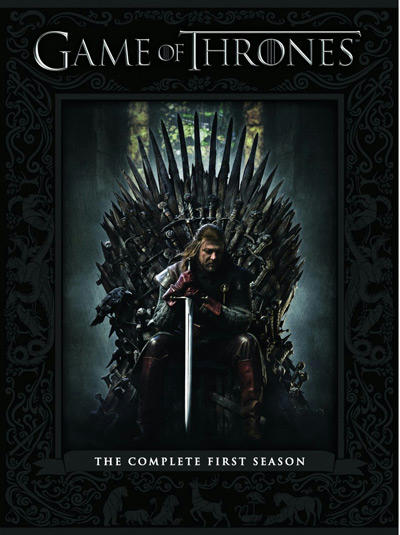 When you look at watching an epic medieval times tv series look no further than Game Of Thrones. I rarely watch HBO series, although I have heard that HBO series are usually good, but this one is fucking awesome. Game Of Thrones is an American medieval fantasy television series created for HBO by David Benioff and D. B. Weiss, based on author George R. R. Martin's best-selling A Song of Ice and Fire series of fantasy novels, the first of which is called A Game of Thrones. Based on watching this I definitely need to get my hands on the books and read it at my leisure.
Looking at the cast I was wondering wow – Sean Bean, Mark Addy & Lena Headley! That's a good list of leading actors to have. Sean Bean – I dunno, is this guy just made for medieval style movies? It seems like that to me. This is also one of the series that, whatever your genre tastes may be (scifi, cops & detective, horror, drama, romance, comedy etc), this is something everyone must try and watch. But beware as there is plenty of nudity & fornication and some violence in it, so it's not for children or the easily offended.
At the heart of the series are two families – the Starks are led by Lord Eddard "Ned" Stark (Bean), patriarch of the Stark family. His wife, Catelyn Stark née Tully, is played by Michelle Fairley. Their children are Robb (Richard Madden), Sansa (Sophie Turner), Arya (Maisie Williams), Bran (Isaac Hempstead Wright) and Rickon (Art Parkinson). Kit Harington plays Ned's bastard, Jon Snow, and Alfie Allen plays Theon Greyjoy, political hostage and ward of Lord Stark. The royal family King Robert Baratheon is played by Mark Addy, and his wife, Queen Cersei Lannister, is played by Lena Headey. Cersei has two brothers; her twin, Ser Jaime Lannister (Nikolaj Coster-Waldau), and the clever dwarf Tyrion (Peter Dinklage). Cersei's oldest child is Prince Joffrey Baratheon (Jack Gleeson), and his bodyguard is Sandor "The Hound" Clegane (Rory McCann). Aidan Gillen plays Petyr "Littlefinger" Baelish, Master of Coin for King Robert's Small Council.
Across the Narrow Sea, Viserys (Harry Lloyd) and Daenerys "Dany" Targaryen (Emilia Clarke) –exiled children of the previous king that King Robert overthrew – are on the run for their lives and trying to win back the throne. Dany is married to Khal Drogo (Jason Momoa), the leader of the Dothraki. Iain Glen plays exiled knight Ser Jorah Mormont, who is sworn to help and protect the siblings. Viserys has arranged the marriage between Dany & Drogo in exchange for the promise of the latter's ferocious army in order to win back the throne. The way he looks at his sister as just an object to achieve his goals (even examining her naked body before presenting her to Drogo) is evident of his arrogant & self-importance and his single mindedness of getting the throne back. Drogo, a rough & silent king takes a liking to Dany and marries her, taking her roughly in evening sex sessions from behind. Dany learns to give pleasure from a Dothraki prostitute and soon wins over Drogo and is pregnant with his son.
King Robert visits the Starks at their castle & land along with his wife, oldest son & heir and the queen's brothers Jaime & Tyrion. During the visit Robert tells his friend Ned about his proposal to unite the two families by having Joffery marry Sansa. Sansa herself is thrilled at this news although her parents don't reciprocate this feeling. It is during this visit that Ned's 10 year old son while climbing a tower sees Queen Cersei engaging in sex with her twin brother Jaime! They catch him in the act and Jamie speaks to him and pushes the young lad down to the ground, as they fear that the rest of the people will come to know of this little incestuous affair. The Starks are in despair over the little guy who is in a coma & as a result of the fall his legs are broken beyond healing. Ned is called away to the capital of King Robert's kingdom to serve as the hand of the King, taking his two daughters with him while leaving his sons & wife behind. Jon Snow leaves to join the Night's Watch at the wall protecting the 7 kingdoms.