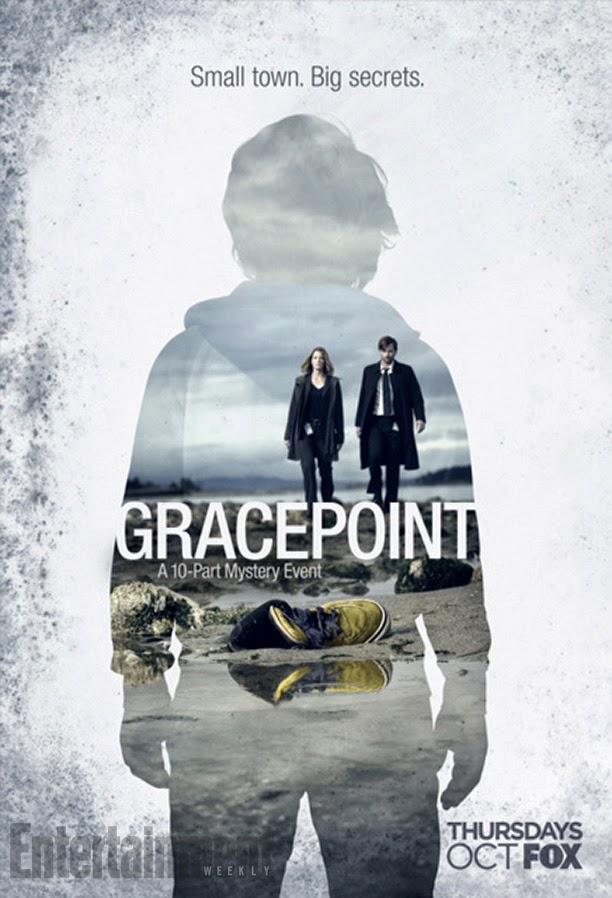 One season is all it seems that this show is getting. That's too bad when you see the plethora of crappy shows and reality stuff that gets seasons and seasons to thrive on tv & cable. Gracepoint is an American crime drama a remake of Chris Chibnall's UK drama series Broadchurch, and also stars that series' lead, David Tennant, along with Anna Gunn, as two detectives investigating the murder of a boy in a small, tightly knit coastal town. Also starring in this 10 episode ensemble cast series are Virginia Kull, Michael Pena, Kevin Zegers, Nick Nolte, Jacki Weaver, Jessica Lucas, Sarah-Jane Potts, Josh Hamilton & Kevin Rankin among others.
The small seaside town of Gracepoint is rocked when 12 year old Danny Solano is found dead on the shore. It looks like a murder covered up to appear to be an accidental fall- Danny was killed by blunt force trauma to the head. Heading the case is detective Emmett Carver, who has just moved to the town from another, and his second Ellie Miller, who was supposed to get the job just given to Carver, only to find a new boss when she comes back from a family vacation. The two cops inform the family and the cracks start to appear in an otherwise close-knit town where basically as no one really stands out, anyone could have been the killer. There's an elderly man with a record for having sex with a minor, a creepy priest who seems to take this death as an excuse to drum up faith and get more people to pray at the church and is a little too eager to be front & center when talking to the press about the feelings of the town and a mysterious older woman who is a loner and lives in a trailer park with a dog for company. Mark Solano, Danny's father, also has a shaky alibi for being away from home the night Danny was killed when it turns out that he wasn't out on plumbing emergency job, nor with a friend having drinks as he said. It turns out however that he was meeting Gemma Fisher, owner of the Crestview Inn, with whom he was having an affair.
Ellie's son was Danny's best friend but they seemed to have a falling out and he deletes email correspondences between him and Danny from his harddrive and phone. Danny's sister has cocaine in her bedroom and $500 it turns out she was holding it for her boyfriend, who is also briefly a suspect. The Solano family also has to deal with overeager press and cameramen who hounded their premises during a lunch. Carver himself has to struggle with his heart problems, which cause him to blackout and after weeks pass by he is told that he has to step down due to his health. But he is able to track Danny's missing phone to the house of Ellie & her husband Joe – Joe had the phone with him. As he confesses, Joe says that he had been meeting Danny in secret for several months, away from the rest of the family. Apparently Danny turned to him quite by chance when he was beaten by Mark for something at school and they developed a bond which became love for Joe. Although he never had sex with the boy the possibility was there. One the night of Danny's death, Joe met the boy in secret at a common shack near the cliff. As Danny ran away after a show of affection from Joe, Tom who had seen his father sneaking out at night runs behind them.
Tom thinks his father is attacking Danny and waves a boat paddle at Joe and accidentally hits Danny who falls down and hits a rock and dies on the spot. Joe has his son sworn to secrecy and stages the fall and wipes the shack down (but misses a spot). However Joe says to Carver that he killed the boy by accident and this is what Carver has him arrested for. Ellie finds out the truth from a distraught Tom after she moves her two sons to a small motel outside of the town. She goes back to sit with Carver as the town has a night memorial for Danny at the spot where he was found but doesn't tell him about her son being involved. After she leaves however Carver plays a video of him questioning Tom with Joe present and plays the part where the boy is asked if he ever saw anyone hit Danny – the boy briefly looks at his father before saying "No" and this leads Carver to think that the boy knew something more that he had said. The series ends at this point though as Elie doesn't pick Carver's calls having a doubt that he might get to the truth. Will the situation change? We will never know now as the show has been cancelled.
But it is a good series and has a good cast with a good story just like the original.