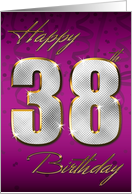 So I turned 38th years old today!
38! ~ let's that sink in to his mind ~
Fuck! I really thought I'd be married, well settled, in my own place by now with a dog or two of my own. 38 is getting on there. It's not old but on the verge of the last decade of my life to really do something before I turn 50.
I am nowhere where I want to be. I have almost no money, I need a steady job and I kinda hate my life right now. I have had 3 really lousy years and the only happiness is when I get to meet one of my closest friends or when I am out with a cousin and we go have some food and talk for a long time. Those are the only things that are keeping me going. Plus a heavy dose of rock n roll! And well Star Trek!
I have no idea what's in store for me during the next few weeks/months/years. I have a ton of regrets and a lot of what ifs and a whole lot of things I wish I could go back in time and change. I don't see much that I can look forward to. On the bright side of things maybe a world wide war will break out and we'll all be killed! Or perhaps an unstoppable disease will destroy all human life here on earth. Who knows? But I do know that I wish I could do so much more.
So here's to 38! It can't get any worse than this, right?