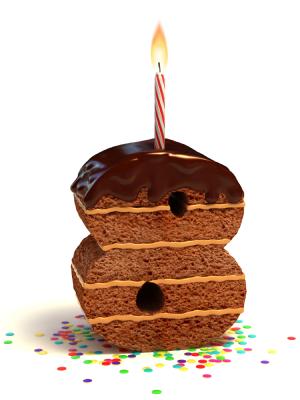 Happy 8th birthday to my blog Awake & Dreaming & a happy 8th Blogaversary to me!
Well I am 3 days late (completely forgot with the rush of the past week) – it was actually on the 1st of Januay. I had setup this blog in a day with the help of my cousin (over the phone), who guided me through the process and by night I had the thing setup. Then I installed WordPress and started blogging.
This isn't my first blog; I first started blogging in 2002, through blogger.com,  when I lived in Calicut and continued with it when I moved back to Cochin. I was an inconsistent blogger, nothing having an internet connection at home & from 2003 till 2006, not having a computer at home. By 2005 I started getting more & more into blogging and I created a new one in blogger.com and called it Count Roshculla : Awake & Dreaming. I started spending more time in internet cafes and hence could blog a lot more consistently. But I always wanted my very own website & domain and I wanted to install wordpress. That was achieved on January 1st, 2007.
I've been thinking that personal, non-theme related blogging has been dying out. Several of the wonderful bloggers I used to follow regularly have moved their posts to Facebook for each reach & convenience and their once busy blogs which I used to read quite often are now faded memories. It's become easier to spend time on Facebook to connect with your 500-600 contacts who may not all be bloggers but share something or the other several times a day. And while I find myself spending hours on FB, I still want to blog regularly and keep maintaining it for as long as I can. Which is probably for a few more years I guess. I won't ever get tired of sharing my thoughts online.
So happy blogaversary!