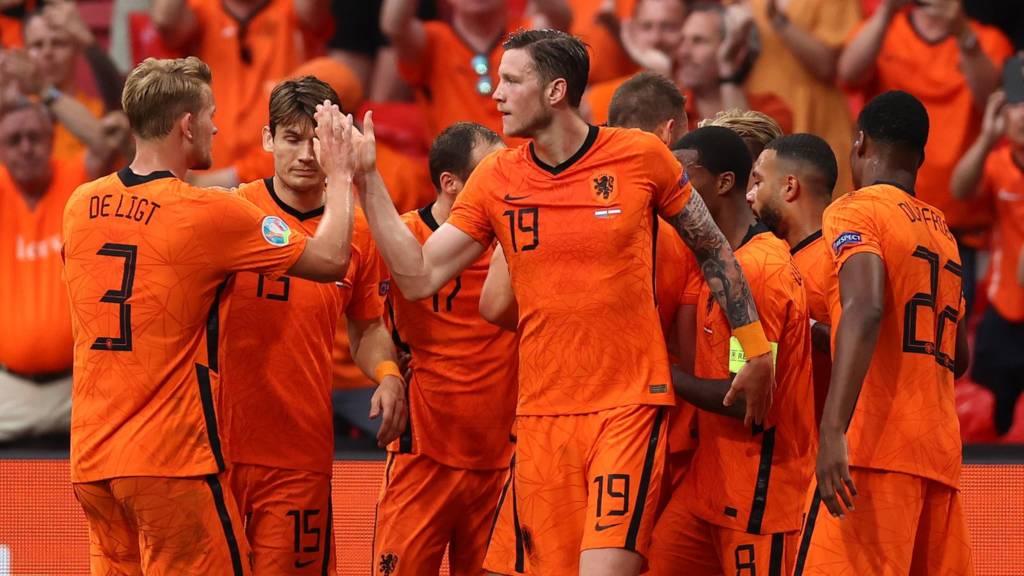 Along with Argentina, (due to 1986 Mexico World up and Diego Armando Maradona) the team that I support in international football is the Netherlands. Perhaps over the years I have veered towards the Dutch a lot more since I watch a lot of them. Some of the very best players in the world during the 80s & 90s were from the Netherlands. Remember the remarkable attacking duo of Rudd Gullit & Marco Van Basten? Who, along with their AC Milan teammate centerback Frank Rijkard and his defence partner Ronald Koeman dominated the 1988 Euros! Moving on to the next decade most of my fav players in the 90s and 2000s were the core of Dutch players who did well in the next two World Cups and in club competitions. Like Denis Bergkamp, Marc Overmars, Phillip Cocu, Ronald & Frank DeBoer, Edwin Van der Sar, Jaap Stam, Patrick Kluivert, Clarence Seedorf, Jimmy Floyd Hasselbaink & Edgard Davids.
This Euros they have won their first 3 games which were the group rounds and look to be a strong contended to atleast reach the semis. The Dutch with a perfect record in Group C now travel to Budapest for Sunday's last-16 tie. The Netherlands played their group games at Amsterdam's Johan Cruyff Arena and three wins have sparked optimism regarding the team's chances of emulating the side that won the 1988 Euros. Assistant coach van Nistelrooy says the Netherlands must not be complacent after topping Group C at Euro 2020 and learn from mistakes made at major tournaments in the past.
The Netherlands scored eight goals as they won all three of their group games at Euro 2020 against Ukraine, Austria and North Macedonia. But a different mentality is needed for knockout phase. Since winning the tournament in 1988, the Netherlands have progressed from just two of their seven knockout stage games in the European Championship. And they are looking to win their opening four games of a European Championship for only the second time, having last done so at Euro 2000.

Edit: Nope, they fucked it up and lost. All because of De Ligt who got red carded.