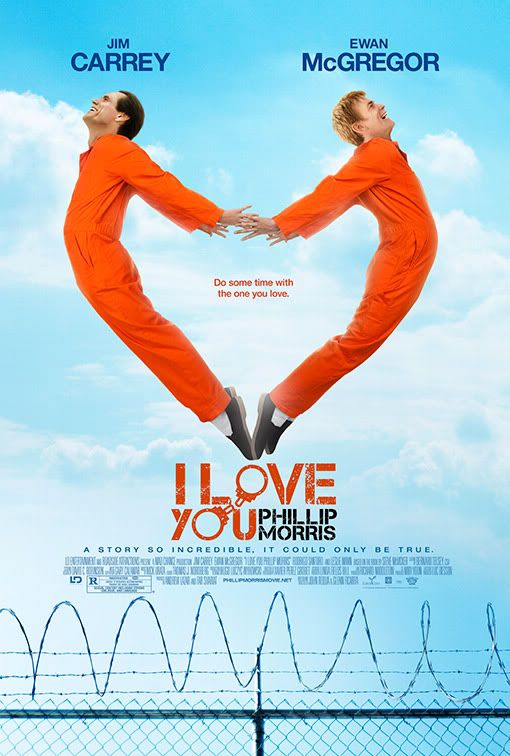 I knew nothing about this  movie other than the fact that Jim Carrey and Ewan McGregor were cast in it. That is the full extent of my knowledge about this movie but since it stars Jim Carrey, I took a copy of this film from a friend today morning. It's a delightfully acted and well scripted and fast paced film in which both Carrey & McGregor shines. Jim Carrey has always been a huge favourite of mine and I think this should win him even more fans.
I Love You Philip Morris is based on the real life events of ex-cop, conman, impostor and multiple prison escapee Steven Russell, played by Carrey. Russell's childhood is marred when he is told that he is infact adopted and he tried to find his biological mother as he grows up but is rejected. He is married to the religious & upright Debbie (Leslie Mann) and is a dotting father to his little daughter. But he is infact gay and a car crash & near death situation makes him decide to live his own life, as that of a gay man. He finds a boyfriend and moves to Florida and showers his new lover with expensive gifts and lives a lavish lifestyle, soon fueled by the money he makes by conning. He gets caught and is  sent to prison.
Over there he meets and falls in love with the shy and gentle Philip Morris (Ewan McGregor) and after sharing letters for a while, Steven manages to get himself transferred to the same cell as Philip. They soon become lovers and have s torrid love affair. Once Steven is released he gets Philip out early by forging documents, faking voices on the phone, and maintaining a series of inspired bluffs including pretending to be a lawyer. He then makes a life with Philip, constructing a massive, fraudulent career in both law and finance so that they can live together in luxury as a super-rich gay couple. However he is caught while bluffing his way through the post of a company's CFO and making huge amounts of cash on false profits. He is caught again and this time Philip leaves him as he is tired of the lies and shame.
Steven will go through any length to see Philip, escaping from prison a few times like pretending to be a doctor and painting his clothes, impersonating a lawyer and forging a judge's signature on release forms. His love for Philip is the desire that fuels him and his biggest ingenious plan is faking his own death by pretending to have AIDS  and then meets Philip in prison pretending to be his lawyer. Until finally they are both caught and put in separate prisons. Philip is released in 2006 but Steven is given a life sentence and is still behind bars. The ending of the movie shows a laughing Jim Carrey running away from guards trying to make yet another escape – his persistence is amazing & incredible.
You may, like me, be put off by the gay sex scenes. I can't imagine these two actors kissing and stimulating sex with another man while actually being straight but that's professionalism for ya. It is a great movie with some tremendous acting skills shown. 9 outta 10!