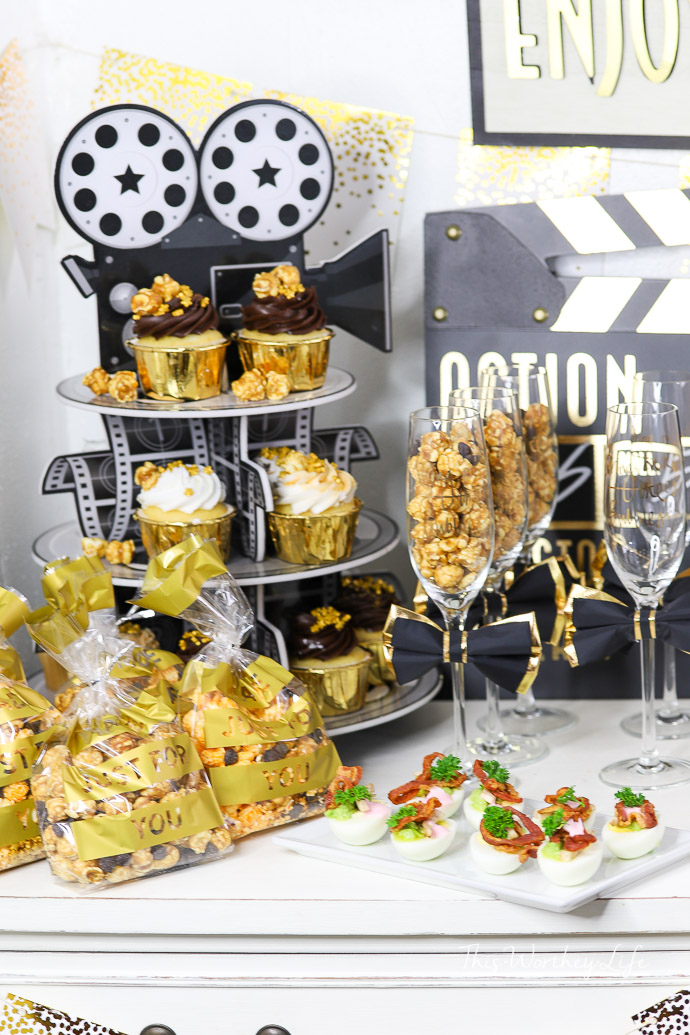 Every party needs food. Get fancy with food-centric Oscar party ideas! Serve plenty of appetizers, like gourmet popcorn in cute buckets, bruschetta, smoked salmon, deviled eggs, meatballs, and tiny fruit parfaits. An Oscar party is the perfect excuse to go all out with a charcuterie board. (If you're short on time, Trader Joe's sells a wide variety of frozen appetizers that look as good as they taste). Stick with the Oscars color scheme and use black and gold plates, cups, napkins, and utensils.
Setup the ultimate movie theater experience at your Oscar party, buy putting out a candy buffet and rent a popcorn machine/maker. You can get popcorn buckets with Oscar themed designs on it. Use glass jars to display candy-like black Twizzlers, a whole lot of M&Ms (or Smarties or Gems if you are in India), gummy bears, candy cane, Ferror Roche and assorted chocolates. Milkshakes, colas, juices and a coffeebar should also be included.
For more solid food, how about star shaped sandwiches? Cheese, veggies & deli meat all cut in a star shape and assembled to make nice grilled or toasted sandwiches. Also you can try to find cupcakes or small cakes that are decorates with the Oscar or in tuxedos to make for fancy desserts. Have a game of dumb charades before the event, themed around famous Oscar winning movies and actors. Pick up acting out lines of famous dialogues.
When the event starts all of you can gather in front of the large screen tv/screen and do predictions and cheer on your favourite winners.