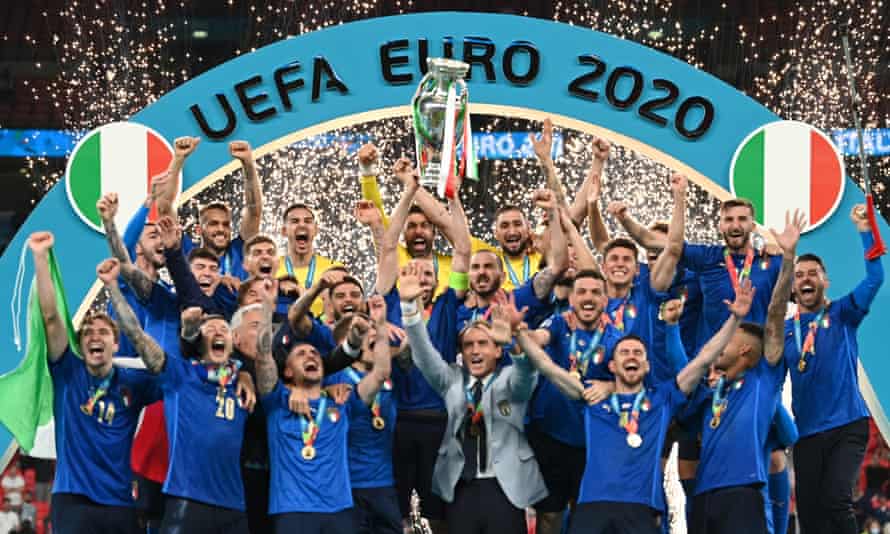 Italy won the European Championship for the first time since 1968 as Gianluigi Donnarumma saved two England penalties en route to a 3-2 shootout win after the teams had fought out a 1-1 extra-time draw at a raucous Wembley on Sunday. The giant keeper saved from Jadon Sancho and Bukayo Saka after Marcus Rashford hit a post, as Federico Bernardeschi, Leonardo Bonucci and Domenico Berardi all scored for the Italians. They also extended their winning streak to 34-0.
England took the lead with a Luke Shaw strike in the 2nd minute, the quickest ever goal in an Euro final. Leonardo Bonucci scored the equaliser for Italy in the 67th minute. The score remained 1-1 at the end of 90 minutes as well as after Extra-Time. Italy won 3-2 on penalties. Italy, one of the most decorated teams in the world, have ended a few years of trophy drought.
England, on the other hand, were in uncharted territory. They haven't even reached a final since 1966. The last of Italy's four World Cup victories came in 2006, when Chiellini had already made his international debut but didn't play at the tournament. But the team is a comparative underachiever in the Euros with its only title in 1968. Italy, however, has already reached the final twice in recent years — in 2000 and 2012 — whereas England hasn't got close until now.
Italy's unbeaten run continues under manager Roberto Mancini. They have been undefeated for 34 matches which goes back to September 2018. Since Mancini took over, he has turned the team around from after their low point of missing the bus for the 2018 World Cup. The Italians are a complete team now with efficiency their key feature. With the next World Cup to take place in 2022, the Italians will hope to continue their form.