What there is an international football game being played in Cochin tomorrow and I didn't get to know about it till today? So I was reading about the build up and previews; India is playing Palestine who doesn't even have a proper nation to define. I read about the difficulties that the players & that which the Palestinian coach faces – unable to get all players together most of the time, difficulties in getting visas for some of the players, travel being banned between West Bank & Gaza, some players based in Jordan or Lebanon etc etc. Compared to that Indian football faces just bureaucracy, stupidity, lack of funds, advertising & sponsorship as cricket gets all the money, low public expectation and thereby nonchalance attitude over the national team's performances. And then I found out about this guy: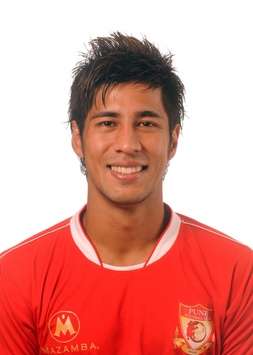 Arata Izumi will be making his international debut for India when the match kicks off. The Pune FC player is usually a roving second striker and will be the first foreign national to play for India. The Japanese born Izumi has an Indian father and a Japanese mother. After his early years in Japan, he started his professional football career with Albirex Niigata Singapore of the S.League.
Despite his growing reputation in Singapore, he was never called up for the parent club in Japan. In 2006 he moved back to Japan and signed for Mitsubishi Motors Mizushima F.C. of the Japan Football League, where he worked at the Mitzubishi plant for 10 hours and then practiced for 2 in the evening. Late in the year he signed with East Bengal FC in India and played with them for a season. In 2007 he signed with Mahindra United and from 2009 he has been playing with Pune FC, where last year in August it was announced that he has recieved Indian citizenship. Reading up on him, reminded me of this fellow:
Dan Nainan is an American standup comic born in Indiana to an Indian Malayalee father & a Japanese mother. Before becoming a comedian, Nainan worked at Intel Corporation as a senior engineer, before being promoted to Strategic Relations Manager! During presentations at high profile events Dan found it experienced tremendous stage fright. To fight he fear he took classes and eventually joined a comedy group. His Intel coworkers, upon viewing a videotape of his, invited him to perform at a team dinner for 200 employees at a high tech convention in Las Vegas. Upon seeing that performance, the organizers of Intel's annual sales conference asked Nainan to perform for 2,500 salespeople from around the world. Restless at his stationary new job and anxious to use his creative talents, he left Intel to pursue stand up comedy full time in 2007. He opened his 300 seater club to promote clean comedy in the DC area. Nainan's book about standup comedy, titled How to Become a Full-Time Standup Comedian, was published by HyperInk Press on April 18, 2012.