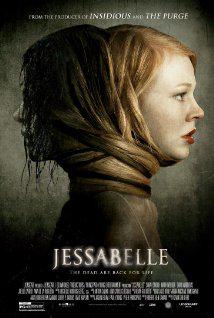 Jessabelle is a 2014 horror movie directed by Kevin Greutert and written by Ben Garant. he film stars Sarah Snook, Mark Webber, Joelle Carter, David Andrews, Amber Stevens and Ana de la Reguera. The movie is about ghosts and possessions and is produced by Jason Blum who also produced Insidious, Sinister & The Purge.
Jessie, a young woman who is moving to her boyfriend's place, is in an accident that kills her boyfriend and also her unborn baby. Having injured her legs badly that she needs a wheelchair, the hospital make her call her estranged father, who she hasn't seen in ages, to come pick her up when she is discharged. Her dad comes and picks her up in his truck and takes her home to his farm house in St. Francis, Louisiana. He sets her up in his wife's, Jessie's mom's, old room which hasn't been used in a while. Jessie's mom Kate had died a little after giving birth due to cancer, which she hadn't allowed to be treated with chemo. After a couple of awkward days spent mostly alone by her self, Jessie finds a few old VHS tapes in a box labeled "Jessabelle" and pops on in in the VCR. She sees a taping of her mother Kate, still pregnant at the time, back in 1988 who is addressing her unborn daughter.
In the video Kate does a card reading for her daughter in which "transition" comes up. The next card says that she has never left St. Francis and that she is never going to leave – which is untrue for Jessie. The third card is Water and Jessie laughs as she doesn't know how to swim. She reads that Jessie is not alone, that there is a presence in the house with her, a female who wants her out of the house. At this point her dad walks in and breaks the tape and tells Jessie not to watch that garbage. He is so angry that he dumps the wheelchair into the bayou. That night Jessie sees a girl in a wheelchair in her room that latter disappears. In the morning she sees an old wheelchair, which her dad says he left there. He apologizes for his behaviour and says that it was Kate's, which he found in the shed. After he leaves Jessie pops in another video in which her mother says that she spoke to Moses about the reading that he said the presence is a demon, and she should stop blaming herself for an accident that happened. Her mother then gives her another reading. Death comes up again, meaning transition, but further reading shows a very horrible death.
The next day a physiotherapists comes to the house and places Jessie in the bath and leaves the room for a bit. Jessie falls asleep and is attacked by a ghost girl as the bathtub fills with dark blood. Hearing her screams her father comes in and she opens her eyes, the attack seemingly a hallucination. The dad gets upset and makes the physio leave and on finding the rest of the tapes, attempts to burn it in the trash. However as he goes in to the shed for matches, it closes and locks by itself and the shed is accidentally set on fire, killing him and Jessie is unable to get to him. At the funeral she meets her childhood friend Preston but a hallucination of a partial burned African-American man makes her faint. After recovering she goes to have lunch with Preston and tells him about the tapes and that she's been having nightmares. Later on her own at night she watches more tapes and in one of them is of her parents at Christmas and another is of her mother telling Jessabelle that she is already dead. The ghost then begins attacking Jessie, again leading to her discovery of another tape in the wall.
She calls Preston and after he comes they investigate lights across the bayou and find voodoo objects and a small grave labeled Jessabelle. Preston opens it up and finds the skeleton of a baby, which they think was still born, and they call the police who take the remains for analysis. The next day Preston takes Jessie to see a lady who used to cook for her parents and who's son was a friend of Preston. On seeing Jessie the old woman starts chanting a voodoo song to allow spirits to possess people and she gets a bit violent. They leave and try to find Moses but only find his shrine with voodoo objects. While there, a group of men find them, attack Preston and tell them to leave. Preston takes Jessie home to get her things so she can stay at his mother's, but he is attacked by the ghost and is taken to the hospital. Jessie later learns from the sheriff that the baby was African-American who was murdered after she was born, which leads Jessie to believe that the spirit, that of the baby, needs saving. When she is alone, she tries to talk to the ghost. She finds the last tape on the coffee table and plays it. She sees a white baby and her mother. At first it looks as if the mother will kill the baby but instead she curses her with a voodoo spell and then shoots herself.
It is then that Kate's spirit appears and the truth comes out. The baby was half black because Kate had an affair with her friend Moses and he is father of the baby. When Jessie's dad sees the baby, Kate's infidelity comes out in the open and enraged he kills the baby and then Moses and adopted Jessie to hide this. Moses's spirit also appears and together they tie Jessie's hands and push her into the bayou. Preston & the sheriff see her from afar and rush to the edge of the water. As Jessie sinks to the bottom, Jessabelle comes up to her and takes her bracelet and swims to the surface, having assumed the form of Jessie. Preston lift her out of the water and takes her inside the house and when the Sheriff asks "Jessie" if she is alright – calling her Miss Laurent – she replies with a sly look, "It's Jessabelle." Spooky!
I would say that I like this film, though the "twist" ending is foreseeable by a mile. I still enjoyed them film and the lead actress Sarah Snook is very effective in her sweetness and vulnerability. No one else stands out but I will give it a 6.5 outta 10!