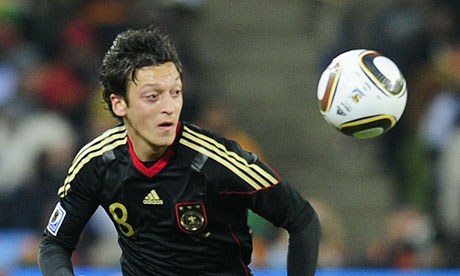 Arsenal have completed the £42.4m signing of Real Madrid and Germany midfielder Mesut Ozil to break their club record by £27.4m. Ozil, 24, has signed a five-year deal. "I am thrilled to be joining a club of the stature of Arsenal and am looking forward to playing in the Premier League," he said. The Gunners have also signed Palermo goalkeeper Emiliano Viviano, 27, but talks have broken down with Chelsea to sign striker Demba Ba, 28, on loan. Arsenal have failed in high-profile attempts to sign Liverpool striker Luis Suarez and Gonzalo Higuain, a former team-mate of Ozil at Real Madrid, this summer.
But they have now captured Ozil after Gareth Bale's world-record £85.3m switch from Tottenham to Real triggered further deals on the final day of the transfer window. The move easily surpasses the £15m they paid Zenit St Petersburg for Andrey Arshavin in 2009. Germany international Ozil joined Real from Werder Bremen three years ago for a fee believed to be about £12.4m and has played 155 times for the club. Going into transfer deadline day, Arsenal manager Arsene Wenger had previously made only two signings – striker Yaya Sanogo, 20, and midfielder Mathieu Flamini, 29, arriving on free transfers. But the signing of Ozil, who helped Real win La Liga in 2011-12 and was named in Uefa's team of the tournament at Euro 2012, delivers a signal of intent to the Gunners' Premier League rivals.
The Gelsenkirchen born Ozil is from a Turkish immigrant family and has previously played for Schalke. He has been capped 47 times by Germany scoring 14 goals in international matches. He has won the Spanish Super Cup (2012) & La Liga (2011-12) & Copa del Rey (2011) with Madrid, and a DFB Cup (2009) & DFL Supercup (2009) with Bremen.