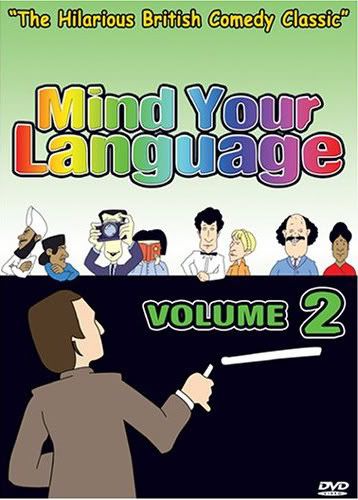 After the first season of 13 episodes season 2 is even shorter with just 8. I can't tell you how disappointing that is even for an old show. Anyways as soon as season 2 starts, we have Mr. Brown coming back to school after the break and looking forward to starting off his new school year with a fresh batch of students but internally missing his last batch. He meets up with Ms. Courtney and then goes to his classroom and see his first new student, Zoltan Zabo (portrayed by  Gabor Vernon) a Hungarian, who only appears during Series 2.
Zoltan has a very basic level of English and requires a phrasebook for everything. He picks up slang quickly, most of which comes from Giovanni and Juan. His typical catchphrase is to say "Bocsánat?" [pronounced "bochanot", Hungarian word for 'Sorry', 'Excuse me'] to everything said to him in English. He is also the most annoying character in the series and the only one I didn't like and I am glad that he had a very minimal involvement with the show. This character didn't really contribute much either.
The second new student who comes in a few minutes later is Ingrid Svensson, a sexy au pair from Sweden, played by Anna Bergman, a Swedish actress and daughter of  of film and theatre director Ingmar Bergmanand choreographer-director Ellen Bergman. She is attractive and straightforward about her attraction to Mr. Brown, sparking a rivalry between her and Danielle. Her main problem with English is word order, often getting words mixed up, such as "you for I question answer." She transfers schools at the end of Series 2, but returns in the independently produced Series 4.
Mr. Brown is highly disappointed to see that none of his 10 students passed their lower Cambridge tests and hence have to repeat the classes. He tends to be a little more stricter this year. The Queen is supposed to visit the school, leading Ms. Courtney to go haywire in arranging the school for presentation. Our class dresses up in their native national costumes for the occasion but the Queen is unable to visit but they mistake another woman for the Queen instead. Ms. Courtney is reunited with an old boyfriend but Mr. Brown has to help her out as it turns out that he is a con artist. The first outdoor episode is shot when the students along with Mr Brown, Ms. Courtney and the incompetent Sidney go on a field trip and are stranded. Mr. Brown stays at the flat shared by Giovanni & Max for a night but is mistaken for a burglar and caught by two policeman. Ms. Courtney forces Mr. Brown to attend a charity dance, and he has to decide who to escort, but ends up dancing with 3 women. The class sings the Mind Your Language opening theme for a talent show.
Nice eh? This is Anna Bergman. It intrigues me how both the hotties of the show were adult film actresses. Both Miss Bergman & Françoise Pascal (Danielle) have done a lot of nude scenes with Pascal doing a Penthouse shoot as well. Anna has done a lot of Swedish porn films. Interesting!!