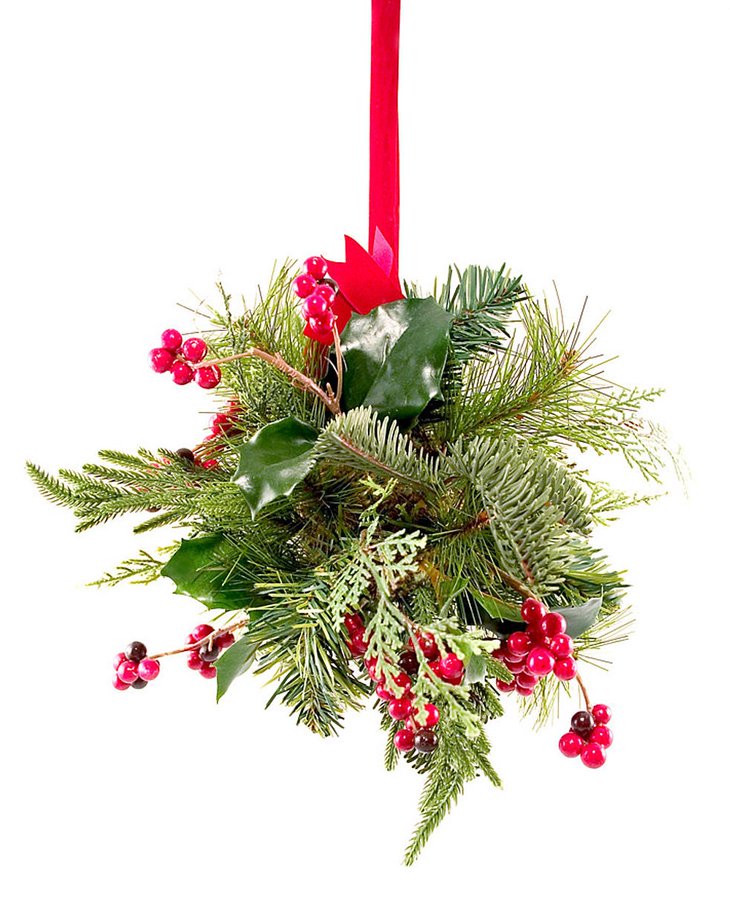 Mistletoe is the common name for obligate hemiparasitic plants in the order Santalales. They are attached to their host tree or shrub by a structure called the haustorium, through which they extract water and nutrients from the host plant. Mistletoe is relevant to several cultures. Pagan cultures regarded the white berries as symbols of male fertility, with the seeds resembling semen. The Celts, particularly, saw mistletoe as the semen of Taranis, while the Ancient Greeks referred to mistletoe as "oak sperm". Also in Roman mythology, mistletoe was used by the hero Aeneas to reach the underworld. Mistletoe may have played an important role in Druidic mythology in the Ritual of Oak and Mistletoe, although the only ancient writer to mention the use of mistletoe in this ceremony was Pliny.
Evidence taken from bog bodies makes the Celtic use of mistletoe seem medicinal rather than ritual. It is possible that mistletoe was originally associated with human sacrifice and only became associated with the white bull after the Romans banned human sacrifices. In Norse Mythology, Loki tricked the blind god Hodur into murdering his own twin brother Balder with an arrow made of mistletoe wood, being the only plant to which Balder was vulnerable. Some versions of the story have mistletoe becoming a symbol of peace and friendship to compensate for its part in the murder.
The Romans associated mistletoe with peace, love and understanding and hung it over doorways to protect the household. In the Christian era, mistletoe in the Western world became associated with Christmas as a decoration under which lovers are expected to kiss, as well as with protection from witches and demons. Mistletoe continued to be associated with fertility and vitality through the Middle Ages, and by the 18th century it had also become incorporated into Christmas celebrations around the world.
The tradition of kissing under the mistletoe started in ancient Greece, during the festival of Saturnalia and later in marriage ceremonies, because of the plant's association with fertility. During the Roman era, enemies at war would reconcile their differences under the mistletoe, which to them represented peace. Romans also decorated their houses and temples with mistletoe in midwinter to please their gods. In Victorian England, kissing under the mistletoe was serious business. If a girl refused a kiss, she shouldn't expect any marriage proposals for at least the next year, and many people would snub their noses at her, remarking that she would most likely end up an old maid.
Today, we take a much more lighthearted approach to the tradition. Although many couples simply just kiss when caught standing under it, there is actually a proper etiquette dating back to ancient times about kissing under the mistletoe. Linda Allen writes in Decking the Halls: The Folklore and Traditions of Christmas Plants that the gentleman should pluck one white berry while kissing the lady on the cheek. One kiss is allowed for each berry.