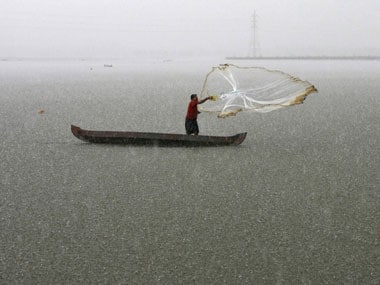 The rains finally hit Kochi and the rest of Kerala this Sunday as the monsoon season is officially declared by the clouds over the state. Technically June 7th was the beginning but over here it really started pouring on Sunday.
Being at home all through the weekend I was watching a movie while in bed in the late afternoon when the rains started and other than a brief respite it has been raining throughout until Monday morning and the sun is mostly blocked by rain clouds. It isn't raining now at 12 noon but the forecast is for showers and some thunder. Vigorous rainfall is expected across Kerala over the next 4 to 5 days. I just hope that it doesn't get to be like last year with the heavy rains leading to floods that devastated parts of the state.
However, I must say that I love the rains. Especially when I am in the comfort of my home and in bed and can cozy up in my sheets and it's raining outside. I didn't feel like getting outta bed this morning and since I am only due to be at work at 7:30 pm I went back to sleep and that laziness won. A bonus, it's not sweaty and hot and I enjoy this kinda weather. I do not enjoy getting wet in the rain but yeah I like this weather.